To say that interest is high in a House bill proposing to legalize recreational marijuana is both a bad pun and an understatement.
More than 30 testifiers signed up to speak Wednesday to the House Commerce Finance and Policy Committee, which also received more than 30 letters of written testimony.
Not surprisingly, not all members of the public wanting to testify on HF600 were able to do so in the 45 minutes allotted for public testimony during the 90-minute committee meeting.
But a majority did, and in the end, the outcome was as expected for this DFL-sponsored proposal. The committee approved the bill, as amended, on a 10-7 party-line vote and sent it to the House Labor, Industry, Veterans and Military Affairs Finance and Policy Committee. The companion, SF757, sponsored by Sen. Melisa Franzen (DFL-Edina), awaits action by the Senate Judiciary and Public Safety Finance and Policy Committee.
House Majority Leader Ryan Winkler (DFL-Golden Valley), who sponsors the bill, framed the cannabis legalization issue in racial inequity and restorative justice terms. The decriminalization of marijuana called for in the bill, Winkler said, would start to undo the disproportionately harmful impacts existing cannabis laws have on communities of color.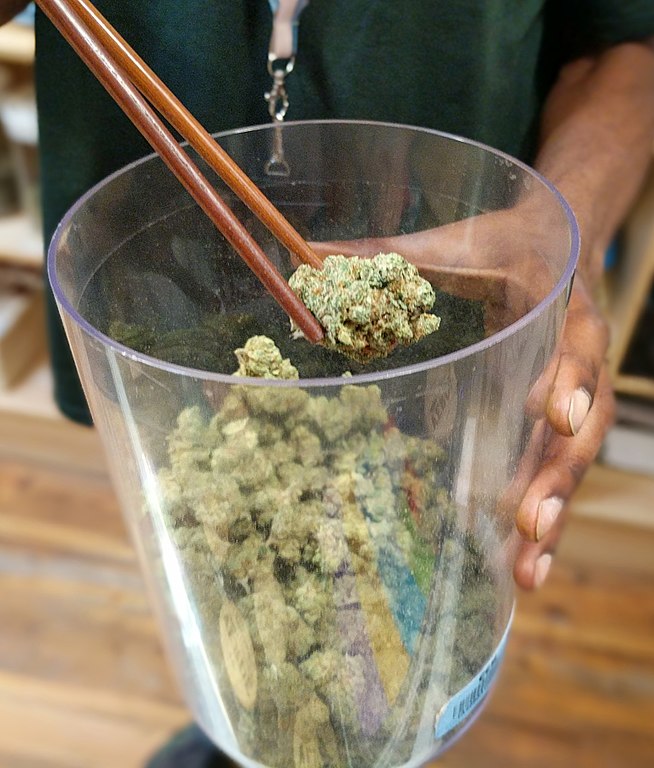 Recreational cannabis at Verde Natural, a recreational dispensary in Denver, Colo., where recreational marijuana has been legal since 2014. Photo by Cannabis Tours, distributed under a CC BY-SA 4.0 license via Wikimedia Commons
The bill would automatically expunge non-violent misdemeanor marijuana convictions, Winkler said, and set up a board to review higher-level convictions before potentially recommending expungement.
Republicans framed their opposition as bad for businesses and a potential headache for law enforcement.
Rep. Barb Haley (R-Red Wing) said the bill would cause uncertainties for employers who use drug testing programs to screen potential hires. If recreational cannabis becomes legal, she said employers would "lack a clear definition on how to treat this in the workplace," and would open them up to new and unknown legal complexities.
Employers need to focus on recovering economically during the COVID-19 pandemic, she said, and not be distracted by the cannabis issue.
Because there is not a roadside test to detect marijuana impairment – equivalent to a breath test for blood-alcohol level – Rep. Eric Lucero (R-Dayton) said driving while under the influence of cannabis could not be effectively detected and penalties enforced.
Legalization, plus regulation
Despite the prohibition on cannabis, Winkler said "it is widely available for people from youth to senior citizens," proving that the criminal justice system is ineffective in keeping cannabis out of the hands of the general public. And the current underground market means cannabis buyers could face significant health risks if a product is tainted.
"That system doesn't work and creates significant harms," he said.
Other benefits of legalizing recreational cannabis for adults, as outlined on a DFL website, include:
establishing a responsibly regulated cannabis market;
allowing law enforcement to focus on more serious issues instead of low-level cannabis offenses;
improving access and affordability to the state's medical marijuana program; and
increasing access to medical marijuana for veterans who cannot legally receive it from the VA.
Legalizing recreational marijuana for adults, with limits
The bill would set legal limitations on the use, possession, and transportation of cannabis and cannabis products and would establish civil penalties for violations. The bill would allow a person age 21 or older to:
possess 1.5 ounces or less of cannabis in a public place;
possess 10 pounds or less of cannabis in a person's residence;
possess or transport eight grams or less of adult-use cannabis concentrate;
possess or transport edible products infused with a total of 800 mg or less of tetrahydrocannabinol;
give away cannabis and cannabis products in an amount that is legal for a person to possess in public;
use cannabis and cannabis products in private areas; and
cultivate up to eight cannabis plants, of which four or fewer may be mature, flowering plants.
Management board, advisory council established
A Cannabis Management Board would be created to oversee and regulate the production and sale of adult-use cannabis, adult-use cannabis products, and medical cannabis.
The board would have powers to enforce cannabis regulations, including imposing and collecting civil and administrative penalties, preventing unauthorized access to cannabis by persons under age 21d, and authorizing the use of unmarked motor vehicles to conduct seizures or investigations. Members would be appointed by the governor.
The bill also calls for a 26-member advisory council to review national cannabis policy, examine the effectiveness of state cannabis policy, review developments in information about cannabis, and take public testimony. Members would also be appointed by the governor.
House Commerce Finance and Policy Committee 02/17/21
Tax collection
Bill proponents tout the increased tax revenue into state coffers. It would impose a 10% gross receipts tax on retail and on-site sales of adult-use cannabis and adult-use cannabis products.
The tax would be in addition to state sales tax and any locally imposed sales taxes. Medical sales and farm equipment purchased for cannabis cultivation would be exempt from the 10% sales tax.
Some tax revenue would be used by the newly created Office of Social Equity to give grants "to communities that experienced a disproportionate, negative impact from cannabis prohibition in order to promote economic development, provide services to prevent violence, support early intervention programs for youth and families, and promote community stability and safety."
Selling cannabis
A license to sell marijuana would be required. Applications would be received by the Cannabis Management Board, which could charge up to $250 to cover costs associated with reviewing and processing applications.
Ten types of licenses would be established, ranging from a personal grower or cultivator up to large-scale manufacturing and wholesale.
The bill would set strict civil penalties – ranging from $1,000 to $1 million – for selling cannabis or cannabis concentrate without a valid license.
Licenses would not be issued to people with convictions for certain criminal offenses, such as a felony controlled substance violation, or criminal convictions that last either for the person's lifetime, or for one, five, or 10 years following the discharge of a sentence.
Local units of government could not prohibit establishment of a licensed cannabis business, but could establish reasonable restrictions on the time, place, and manner of retail cannabis operations.
Rep. Tim O'Driscoll (R-Sartell) successfully offered an amendment that would prohibit the board from issuing a license "located within 1,000 feet of a school, day care, nursing home, union headquarters, house of worship, or the Capitol or Capitol grounds."
Appropriations
The bill would appropriate $16.55 million from the General Fund in fiscal year 2022, of which $15 million would go to the Cannabis Management Board.
Other large appropriations include $500,000 to the Bureau of Criminal Apprehension to identify criminal records that may be eligible for expungement, and $500,000 to the Supreme Court for reviewing records and issuing orders expunging certain cannabis offenses.
Senate prospects for legalization
To be blunt, the House proposal will likely not go far in the Senate.
Senate Majority Leader Paul Gazelka (R-East Gull Lake) said in a Feb. 1 statement that although he is open to looking at additional medicinal uses for cannabis and having a conversation around drug sentencing, he is opposed to recreational cannabis use by adults.
"My main concerns are the unintended consequences of recreational pot, similar to the concerns we all have about tobacco, drinking, or prescription drug abuse," he said. "Just because it's legal doesn't mean there aren't consequences."