"Rural Minnesotans have fewer options for dental care and worse dental outcomes than their urban counterparts."
That was the message Sarah Wovcha, executive director of Children's Dental Services, shared with the House Health Finance and Policy Committee Wednesday.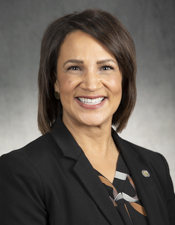 Rep. Lisa Demuth
HF620, sponsored by Rep. Lisa Demuth (R-Cold Spring), would use a few different strategies to attract new dentists to high-need areas, including an expansion of the state's Health Professional Loan Forgiveness Program to include dentists practicing in rural Minnesota.
The bill was amended and held over for possible inclusion in an omnibus bill. It has no Senate companion.
"We know that access to dental care in rural Minnesota remains one of the state's biggest health problems," with poor dental health connected a range of issues including diabetes, heart disease, and stroke, Demuth said.
Filling open positions is a struggle, as dental students often graduate with about $300,000 in debt. Without loan forgiveness, they can't afford to practice in rural areas, even if they want to, Wovcha said.
"The pressure to earn a high income in an urban setting is enormous," agreed Dr. Michael Helgeson, CEO of Apple Tree Dental.
Other initiatives included in the bill would:
provide grants to support and create dental residency programs outside the metro area; and
expand the University of Minnesota's Rural Dentistry Scholar's Program, which places second- and third-year dental students with rural dentists around the state for mentoring and collaboration and learning opportunities.
The bill includes blank appropriations to support all three initiatives.
Rep. Tina Liebling (DFL-Rochester), the committee chair, asked that Demuth provide members with information about what benefits the state could expect with different levels of financial investment "so we have some sense of the scale."