Tenants behind on rent or against whom eviction cases are filed could have more time to reach agreements with landlords, and tenants with eviction records could more easily find housing under bills approved Thursday.
Sponsored by Rep. Hodan Hassan (DFL-Mpls), HF20 would require landlords to provide notice to tenants who haven't paid rent and then wait 14 days before filing eviction cases against them.
Existing law allows eviction cases to be immediately filed for unpaid rent.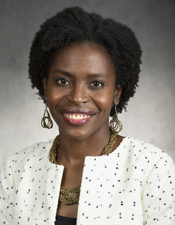 Rep. Esther Agbaje
HF1060, sponsored by Esther Agbaje (DFL-Mpls), would lengthen the period between when landlords file eviction cases and when they are heard in court by at least one week.
The bill, as amended, also would prohibit tenant-screening reports used to determine a renter's eligibility from including eviction filings that didn't result in removal.
HF265, sponsored by Hassan, would allow tenants who have been evicted to more easily erase the cases from their records.
All three bills were approved along party lines by the House Housing Finance and Policy Committee and referred to the House Judiciary Finance and Civil Law Committee.
HF1060 does not have a companion. The companions of HF20 and HF265 — SF766 and SF771 respectively — are sponsored by Sen. Kari Dziedzic (DFL-Mpls) and await action by the Senate Civil Law and Data Practices Policy Committee.
More than 15,000 evictions are filed each year in Minnesota, including roughly 13,500 for unpaid rent, according to a letter from the Greater Twin Cities United Way.
Housing advocates say evictions are life altering. They can lead to homelessness, force children to change schools and increase hurdles to finding and keeping jobs and future housing.
Hassan said HF20 would give renters more time to find help before they are evicted. The bill would require the notice from the landlord to include information on legal and financial assistance for which the renter might qualify.
Housing panel hears HF20 02/18/21
Advocates said HF1060 also could give tenants and landlords more time to reach agreements. Existing law requires cases to be scheduled seven to 14 days after the tenant receives a summons, which would increase to at least 14 days under the bill.
HF265 would expunge all dismissed eviction cases, all evictions more than three years old and all evictions in which the tenant prevailed or in which settlement terms were fulfilled.
It would also give courts more discretion to erase evictions from records and would make eviction records private until final judgements are reached.
Landlords said the bills could have unintended consequences. By adding a barrier to evicting tenants, more landlords could opt to start the eviction process instead of first trying to work out agreements for unpaid rent, Minnesota Multi Housing Association Board Chair Bernadette Hornig said.
That could mean more evictions.
Other potential issues with the bills, they said, include more complex and longer eviction trials and increased secrecy. Rep. Tama Theis (R-St. Cloud) said she's concerned about what the bills mean for landlords.