When Dr. Claudia Fox sat down to talk about treatment options with a 14-year-old patient and his father, the medications that would most benefit the teen weren't even an option – purely because he was on Medical Assistance and suffering from chronic obesity.
"We would never accept the same differential treatment for other diseases," Fox told the House Health Finance and Policy Committee Monday. "It's a parity issue. … It's also an equity issue."
HF894, sponsored by Rep. Connie Bernardy (DFL-New Brighton), would allow Medical Assistance to cover weight loss drugs by removing language that specifically excludes the vast majority of these medications from coverage.
It was held over for possible inclusion in an omnibus bill.
A companion, SF1263, is sponsored by Sen. Rich Draheim (R-Madison Lake) and awaits action by the Senate Health and Human Services Finance and Policy Committee.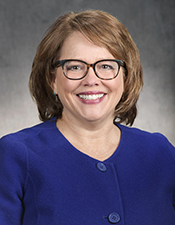 Rep. Connie Bernardy
In Minnesota, one out of every 10 children and one out of every three adults struggle with obesity, said Fox, an associate professor of pediatrics and co-director of the Center for Pediatric Obesity Medicine at the University of Minnesota Medical School.
"It's a disease that stems from abnormal biology that is primarily inherited. Obesity is not a problem of willpower … obesity is no one's fault," she said.
Medication doesn't replace the importance of lifestyle changes in treatment, but it helps make those changes possible and sustainable, Bernardy said.
Related and resulting health conditions include diabetes, hypertension, high cholesterol, vascular and heart disease, sleep apnea, many cancers, degenerative arthritis, stroke, infertility, depression, and anxiety, testifiers said.
Long-term, not covering these medications – especially for the populations that need them the most – is only going to cost the state more money. The cost of providing health care to an adult with obesity is nearly 150% greater than their non-obese counterparts, Fox said.
The provision was initially included in the House's omnibus health bill in 2019, but cut because of a lack of funding, said Rep. Tina Liebling (DFL-Rochester), the committee chair.
A fiscal note is not yet available. But when one is completed, Liebling said she hopes it will reflect the projected long-term savings associated with earlier, more effective interventions.
"People with a chronic disease do better with treatment than without," Bernardy said. "It makes both scientific sense and fiscal sense for Minnesota to mainstream the treatment of obesity."