Rep. Emma Greenman (DFL-Mpls) would like to hammer down funding to help train future craftspeople.
"These are good-paying, rewarding, family-sustaining jobs that are in high demand," she said Wednesday while referencing jobs students can get after accessing training opportunities arranged through the Construction Career Pathway Initiative developed by the Construction Careers Foundation.
She sponsors HF715, which would appropriate $750,000 in the 2022-23 biennium to the foundation to provide year-round educational and experiential learning opportunities for teens and young adults under the age of 21 that lead to careers in the construction industry.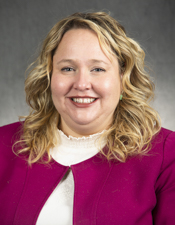 Rep. Emma Greenman
The House Workforce and Business Development Finance and Policy Committee laid the bill over for possible omnibus bill inclusion. The companion, SF985, sponsored by Sen. Tom Bakk (I-Cook), awaits action by the Senate Jobs and Economic Growth Finance and Policy Committee.
Programs and services operated by the foundation would need to prioritize individuals from groups that are economically disadvantaged or historically underrepresented in the construction industry, including women, veterans and immigrants.
"This is an investment in addressing some of the long-term disparities in our workforce," Greenman said.
The foundation has connected with, and arranged training opportunities for, more than 23,000 students in the last three years in more than 720 middle, junior high and high schools throughout the state, according to Greenman.
Sam Ebute, director of the Minnesota Trades Academy, one of the programs supported by the foundation, said his organization offers paid summer construction internship experiences for high school students in the Twin Cities area.
Over a nine-week period, he said, academy interns visit up to 16 different apprenticeship training centers where they receive training and supervision from industry experts as they complete projects using both hand and power tools.
Ebute said many projects students work on are renovations of condemned, foreclosed or distressed homes in the communities where they live, which gives the students an extra sense of pride.