Regular prenatal care is vitally important to ensure the best outcomes for pregnant women and their babies. It can even reduce the risk of some complications associated with maternal substance abuse.
But encouraging someone to get and continue that care is difficult when they're afraid a substance use disorder – and Minnesota's current reporting requirements – could result in the loss of their child or criminal penalties, Rep. Kelly Morrison (DFL-Deephaven) told the House Human Services Finance and Policy Committee Wednesday.
She sponsors HF1026, which would exempt prenatal care providers from the mandatory reporting of women who use a controlled substance during pregnancy, eliminating barriers to prenatal care and improving access to addiction services.
It was amended and held over for possible inclusion in an omnibus bill.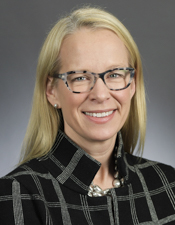 Rep. Kelly Morrison
A companion, SF1182, is sponsored by Sen. Michelle Benson (R-Ham Lake) and awaits action by the Senate Health and Human Services Finance and Policy Committee.
The issue is a personal and professional one for Morrison, a practicing OB-GYN, who knows the reporting requirement can directly impact a doctors' ability to establish trusting relationships with patients who are struggling with addiction.
"The disease of substance addiction is subject to medical and behavioral management in the same fashion as hypertension or diabetes," Morrison said.
The bill would still allow care providers to make reports if they believe a patient poses a risk to themselves or their children. It just wouldn't make reports mandatory, giving providers much-needed time to develop a relationship with patients, earn their trust, and connect them to resources including addiction treatment services, testifiers said.
Current reporting requirements include women who are already voluntarily undergoing substance abuse treatment, which can discourage them from continuing that care, said Dr. Elizabeth Alabi, an OB-GYN at Hennepin County Medical Center.
Minnesota's law is considered one of the "most punitive" in the country and might prevent the state from inclusion in a National Institute of Health study on neonatal abstinence syndrome, said Dr. Anna Zilverstand, an assistant professor in the Department of Psychiatry and Behavioral Sciences at the University of Minnesota.
It would be "nearly impossible" to conduct the study without putting participants at legal risk, as mandatory reporting requirements even include educators and researchers, she said.
Rep. Debra Kiel (R-Crookston) expressed concern that, without the reporting requirement, mothers may not get the substance abuse treatment they need or remain involved in care. She wants more information about how other states handle the problem.
Rep. Nels Pierson (R-Rochester) pointed out that doctors are not currently required to report the consumption of alcohol – even though it poses well-known risks to developing babies.
The way doctors handle that issue without reporting requirements would likely serve as a template for how they will continue to connect women to the treatment they need, he said.
The report of cannabis use is also not required under current law.
"The fact that the mother is wanting to go to the doctor's office to start with indicates that she does want to do the best that she can," Rep. Paul Novotny (R-Elk River) said in support of the bill. "That is her best avenue for getting the help that she needs."