Minnesota school employees who have contracted the coronavirus since last summer could become much more successful in COVID-19-related workers' compensation claims.
HF37, sponsored by Rep. John Huot (DFL-Rosemount), would create a presumption that teachers who have contracted the disease did so while working.
Their workers' compensation claims would then be successful unless schools or insurers could prove the disease wasn't contracted while working.
Huot said teachers need all the help and security they can get right now.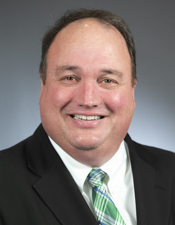 Rep. John Huot
The bill, which would cover public, private and charter schools, was laid over for possible omnibus bill inclusion Wednesday by the House Labor, Industry, Veterans and Military Affairs Finance and Policy Committee.
Its companion, SF105, is sponsored by Sen. Greg Clausen (DFL-Apple Valley) and awaits action by the Senate Labor and Industry Policy Committee.
Minnesota's workers' compensation system entitles employees who become disabled or need medical care because of employment activities to compensation and medical and rehabilitation benefits.
Typically, employees need to show that employment activities were a substantial contributing factor to the disability or need for medical care. Employers are required to have workers' compensation insurance.
In April 2020, the Legislature amended the workers' compensation rules so health care workers and first responders would have an easier time accessing benefits. But insurers and the Minnesota School Boards Association say that's unnecessary for school district employees. They say the risks of COVID-19 for employees have become more manageable and the bill would raise costs on already cash-strapped school budgets.
They are particularly concerned about making the bill retroactive to July 15, 2020.
Kirk Schneidawind, the association's executive director, suggested the bill, at a minimum, only apply to employees who have been working in person.
Rep. Joe McDonald (R-Delano) said the bill wouldn't necessarily help keep teachers safe.
Library media specialist Lisa Huninghake of Wilshire Park Elementary School in St. Anthony, who has taught kindergarten this year, said workers' compensation is a much-needed safety net for school staff who contract COVID-19.