Having rights doesn't benefit someone unless they are aware of those rights.
"When you think of the rights that folks with disabilities have … and the rights that they actually know about and are supported to exercise, there really is a significant gap," Mary Kay Kennedy, executive director of the ACT Center for Disability Leadership, told the House Human Services Finance and Policy Committee Thursday.
HF923, sponsored by Rep. Joe McDonald (R-Delano), would appropriate $143,000 in both fiscal year 2022 and 2023 from the General Fund to maintain and promote self-advocacy services and supports for people with intellectual and developmental disabilities.
It was held over for possible inclusion in an omnibus bill.
A companion, SF858, is sponsored by Sen. Jim Abeler (R-Anoka) and awaits action by the Senate Human Services Reform Finance and Policy Committee.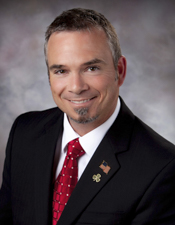 Rep. Joe McDonald
The ACT Center for Disability Leadership maintains a statewide network providing education, empowerment and support. State funding would allow the center to continue its work, helping to get people engaged with their own communities on their own terms, Kennedy said.
At a recent workshop, one program participant said he knew he could vote, but that he hadn't known about any of the other rights discussed, she said.
Cynthia Gayles, a member of the ACT Center Board of Directors and a former program participant, said that the experience empowered her to take charge of her life and that she only wishes it had been around when she was younger.
"I was always told what to do, when to do it, and how to do it, and was made to feel like it was in my best interest," she said. "I know how to now speak up for myself and what I believe. … I do have a choice to live the way I want."
The combination of awareness and support has empowered many program participants to become advocates for themselves at home and in their personal lives, but also in their communities and around the state, McDonald said.
Some participants have created clubs to connect themselves with volunteer work, joined community gardening programs, reconnected with estranged family members, and worked to share knowledge and resources – like teaching other people with disabilities how to use Lyft and Uber to physically access their own communities.
"We're just trying to get it out there that just because … you have a disability doesn't mean you can't be treated equally," Gayles said.
The bill includes an additional $105,000 appropriation – in each year of the 2022-2023 biennium – to provide subgrants to conduct outreach across the state to people working and living in institutional settings to inform them of community service options and provide peer-led skill training sessions.
The Legislature last funded the organization in 2017, and they proved themselves to be both "frugal" and effective with that funding, McDonald said.