Say you're attending a University of Minnesota football game at TCF Bank Stadium and start chatting with a fellow fan across the aisle. It probably won't come up in your conversation, but there's a good possibility that they paid a lot more for their ticket than you did.
Why? Because they may be in a section deemed a "preferred viewing location" by the university. And that means that the difference between their ticket price and yours goes entirely toward athletic scholarships. It's called a "scholarship seating donation."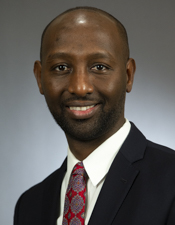 Rep. Mohamud Noor
So is it a donation or a purchase? And, if it is a donation, should it be tax deductible?
It would be under a bill sponsored by Rep. Mohamud Noor (DFL-Mpls). HF298, which was replaced by a delete-all amendment, would make the portion of a college sporting event ticket earmarked for scholarships a tax-deductible donation.
Would that lower your ticket price, sports fan? No, but it would make more money available for scholarships, as the school would no longer have to pay those sales taxes. On Thursday, the House Taxes Committee laid the bill over for possible inclusion in an omnibus tax bill. It's estimated that the bill's provisions would decrease revenue to the state's General and Legacy Funds by $930,000 in fiscal year 2022.
The bill's companion, SF695, sponsored by Sen. Greg Clausen (DFL-Apple Valley), awaits action by the Senate Taxes Committee.
"These type of programs are used in University of Minnesota football, men's and women's basketball, men's hockey and volleyball," Noor said. "They're also used in UMD [University of Minnesota-Duluth] hockey. … We are the only state we know of that taxes these donations. The state granted an exemption to the Vikings stadium [for seat licenses]. I think it's appropriate to do it for the university."
For the 2019-20 school year, the University of Minnesota reported the portion of season ticket prices collected as scholarship seating donations as totaling $12.1 million.
"Scholarships are a lifeline," said Quincy Lewis, director of the "M" Club alumni organization and one of the all-time leading scorers for the university's men's basketball program. "Today, I'm asking that our system can live up to its promise that if these kids work hard in the classroom and in their sport, they'll find success. Scholarships are the bridge between dreams and reality."
Lewis added that, while five sports collect the scholarship donations at the university, the revenue would be used for scholarships in all sports.