Nine of the dozen hotels in Roseville are not a nuisance to authorities, local officials say.
The other three could be affected by a legislative proposal.
Sponsored by Rep. Jamie Becker-Finn (DFL-Roseville), HF702 would require hotels to be licensed by the city or town where they operate. Ensuring compliance with state and local laws would be a licensure condition.
"This is about protecting the public safety of our communities and giving cities another tool to deal with property owners who may not be helpful in managing the crimes that occur on their property," she said.
Roseville Police Chief Erika Scheider noted "dramatic" increases in crime, including human trafficking, robbery, shootings and sexual assaults, at the three troubled properties in recent years. In one location, workers at a nearby day care do not feel safe because of activity at the hotel.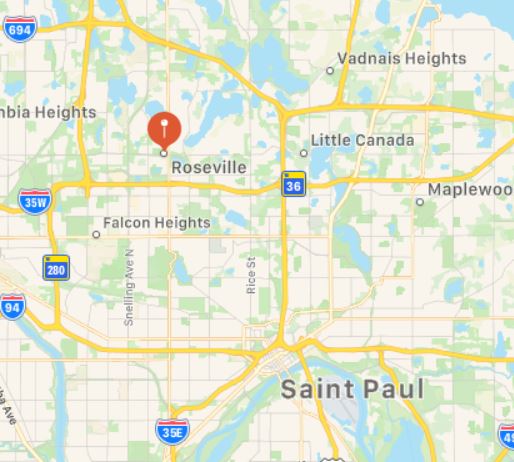 Officials from suburban Roseville are supporting a state law requiring local licensure of hotels, citing a dramatic increase in crime at some hotels in the city. (Map via Apple Maps)
"We have tried to work with hotel management and owners, but they have refused to address the increase in crime," she said. "We currently do not have the local control to effect change to address the public safety problem."
In the past three years, 74% of police calls from Roseville hotels came from the trio of troubled hotels. And that's when a call is made. Scheider cited examples of hotel staff refusing to call police when a woman said she was "violently raped" in a room and another where a shooting was not reported.
Approved Wednesday by the House Local Government Division, the bill's next stop is the House State Government Finance and Elections Committee. Sen. John Marty (DFL-Roseville) sponsors the companion, SF923, which awaits action by the Senate Local Government Policy Committee
If you're doing the right thing, you'll be fine, but if not, this gives an "extraordinary power" to revoke that license, said Ramsey County Attorney John Choi.
Choi said this is not just a Roseville problem, and Rep. Shane Mekeland (R-Clear Lake) spoke of problem properties in St. Cloud.
"Our city has been around long enough to know that trying to get something through the Legislature is not the easiest way to deal with a problem," Becker-Finn said. "But this is the place that we're at, sort of almost the desperation to come up with more tools to address these problems because our typical criminal justice process is not getting us where we're able to hold these hotel owners accountable."