When someone experiences a mental health crisis, they need help. But hospitals aren't the only option.
Residential crisis stability units provide short-term, residential treatment to help adults reach "a baseline level of functioning," create crisis prevention plans, and then discharge patients with resources and referrals, Rep. Jordan Rasmusson (R-Fergus Falls) said.
Unfortunately, Minnesota only has two such units.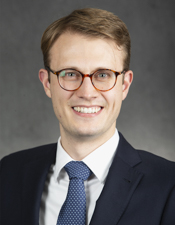 Rep. Jordan Rasmusson
HF1305, sponsored by Rasmusson, aims to make these units a more viable part of the state's mental health services system by authorizing the Department of Human Services to set statewide payment rates specific to the care they provide.
The House Human Services Finance and Policy Committee laid the bill over Wednesday for possible inclusion in an omnibus bill.
A companion, SF1292, is sponsored by Sen. Bill Ingebrigtsen (R-Alexandria) and awaits action by the Senate Human Services Reform Finance and Policy Committee.
Residential crisis stability units provide a low-cost alternative to hospitalization for people who don't necessarily need that more intensive level of care, and can be covered by both private insurance or public plans like Medical Assistance.
However, they are currently reimbursed as adult foster care providers, which does not accurately reflect the cost of the care provided, Rasmusson said.
"DHS has observed a shrinking number of providers over the years," he said. "Not because of a lack of demand, but given the unsustainable rate structure."
Productive Alternatives' crisis stabilization unit in Fergus Falls has about 100 intakes a year, meaning the unit's four beds are "almost always full." Most stays last between four and five days, though they can go up to two weeks, said president Steve Skauge.
"It's avoiding hospitalization," he said.
Some people who previously averaged four to five hospitalizations a year now don't require any, because they can go to the unit for care, or contact staff by phone via a 24-7 hotline, Skauge said.
"These types of programs are vital to improving our overall outcomes," said Rep. Jessica Hanson (DFL-Burnsville).
Rates established must not exceed the rates charged to other payers, and providers would need to need to submit annual cost reports to inform annual recalculations of the statewide per diem rates.
It would be effective Aug. 1, 2021 or upon federal approval, whichever is later. A fiscal note is not yet available.