Minnesota meatpacking companies could be required to install more stringent COVID-19 measures, while their workers could be allowed to refuse to work in dangerous conditions without getting fired or facing retaliation.
HF800, sponsored by Rep. Dan Wolgamott (DFL-St. Cloud), would implement a series of pandemic-related measures, from requiring companies to space workers at least 6 feet apart to providing them sufficient personal protective equipment.
It would also create paid sick time requirements for meatpacking workers during the pandemic and require companies to pay workers who refuse to work in dangerous conditions.
That's provided the employees report the dangerous conditions and they aren't corrected.
In addition, the bill would allow employees to receive unemployment insurance when they quit because of dangerous conditions.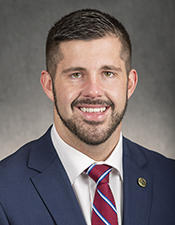 Rep. Dan Wolgamott
On Wednesday, the bill, as amended, was approved along party lines by the House Labor, Industry, Veterans and Military Affairs Finance and Policy Committee and referred to the House Agriculture Finance and Policy Committee.
Its companion, SF1598, is sponsored by Sen. Aric Putnam (DFL-St. Cloud) and awaits action by the Senate Labor and Industry Policy Committee.
The plight of meat and poultry workers in the U.S., many of whom work in tight quarters in processing facilities, has been highly scrutinized because of COVID-19 outbreaks across the Midwest.
Wolgamott said the bill would increase training and standards in processing plants and that some processing workers have been forced to sacrifice their health for their jobs.
The bill would require companies to create committees comprised of an ergonomist, a doctor and employees to build worker-safety programs.
Companies would also be required to provide at least eight hours of paid training annually to employees and provide paid training to employees before they start new duties.
The bill would prohibit retaliation or adverse action against employees who report health and safety concerns and create the presumption that adverse actions taken against employees within 90 days of the reporting were retaliatory.
In addition, it would create a "workers right's coordinator" within the Department of Labor and Industry who would enforce the provisions.
Meatpacking workers said the bill is critical to ensuring health and safety.
Rod Ryks, who has worked at Hormel Foods in Austin for decades, said workers need help in holding meatpacking facilities accountable and safety issues need to be addressed in a timely fashion.
Tamara Nelsen, executive director of the Minnesota AgriGrowth Council, said businesses are committed to employee health and safety and suggested that attention be focused on employee vaccination efforts.