Is electricity a new crop to harvest from Minnesota's prime farmland? Or are rural solar arrays taking valuable acreage out of the food chain?
That was the gist of the debate on a draft bill discussed Thursday by the House Climate and Energy Finance and Policy Committee. Although the proposal from Rep. Todd Lippert (DFL-Northfield) doesn't have a number yet, it cut to one of the essential arguments about increased use of renewable energy sources in rural Minnesota.
The idea would modify siting prohibitions in state law to allow for solar arrays to be constructed on "prime farmland," a technically detailed federal definition about soil content and other elements. Current state law keeps energy generation facilities from being constructed on or near such land, thus keeping farmers from putting their land into energy production.
"We will need more renewable energy," Lippert said. "The prime farmland exclusion rule was created in the '80s in response to coal-fired power plants. Solar was not what the rule was designed to address, and it's creating conflict in what should be a win-win situation. Solar is good for rural communities."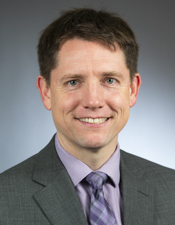 Rep. Todd Lippert
The plan also contains environmental provisions: A proposed site for a solar generating system must be on land with sensitive groundwater on which perennial vegetation and foraging habitat could be established. It also must not disrupt agricultural usage.
One farmer who has benefitted from solar energy is Ralph Kaehler of St. Charles. He not only farms, but has become a partner in a solar production company, Novel Energy.
"Solar is not taking prime farmland out of production," he said. "We're creating a new crop: Electricity."
Kaehler said annual net income from an acre of corn and soybeans on his land usually falls somewhere between a loss of $50 and a profit of $300.
"Solar can produce $800 per year on a 25-to-30-year contract," he said. "We have 25 million acres of farmland in Minnesota, and 17 million are in production. … It would require only 100,000 acres to reach the state's goal [of having 10% of electricity generation be solar by 2030, currently in statute]. This would not affect our supply of food or fuel. And solar will reduce the rural-urban divide. Our rural legislators should be promoting this. … If you don't support this change, who are you representing?"
"If you want to save groundwater, you should support only putting solar on irrigated land," said Rep. Chris Swedzinski (R-Ghent). "This is going in an absolutely opposite direction of what I think we should do. … We have an opportunity to say where it should be, and I think that should be in the least productive areas."
"This will allow farmers to produce what they want to produce," Kaehler replied. "By limiting solar, you're limiting income sources for farmers. … We will be losing 10 times more land to urban sprawl than we will to solar."
The plan is expected to resurface in the committee when it is ascribed a bill number and becomes eligible for amendments.