Despite having his own vehicle, Ted Stamp has relied on the help of others for transportation since he sustained a spinal cord injury in June 1993.
But going to the store, medical appointments, college, work, and religious and social events became incredibly – and unnecessarily – difficult in 2017, when he was informed that state statute prevents personal care attendants from driving him anywhere.
"So, what's a person supposed to do?" he asked the House Human Services Finance and Policy Committee Thursday.
HF1431, sponsored by Rep. Luke Frederick (DFL-Mankato) would modify the personal care assistance and community first services and supports programs to specify that "traveling" can include driving and accompanying a person to medical appointments and other locations.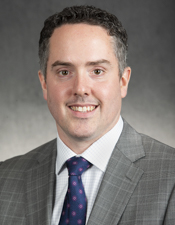 Rep. Luke Frederick
It was held over for possible inclusion in an omnibus bill.
A companion, SF984, is sponsored by Sen. Andrew Mathews (R-Princeton) and awaits action by the Senate Human Services Reform Finance and Policy Committee.
The proposed legislation would be a "very small change … that has a big impact for people," said Vicki Gerrits, executive director of Minnesota First Community Solutions, representing the PCA Reform Coalition.
Even if a person with a disability has their own vehicle, adapted to their needs, current statute forces them to use local public transportation – if and when it's available. That makes it impossible for many people in the state to consistently get where they want, when they want, if they can go at all, Stamp said.
Access to reliable transportation is especially important in helping the disability community during the COVID-19 pandemic, as many people have struggled to reach testing sites or vaccine distribution locations, said Kody Olson, an advisor to the Minnesota Council on Disability.
The change is "a fantastic, common-sense opportunity," that promotes more integrated community settings, he said.
Currently, PCAs can go to the store and shop for their clients from a list, but the people they're shopping for cannot accompany them. PCAs can't drive their clients to medical appointments, but they can accompany them using state-reimbursed, nonemergency medical transportation services, Stamp said.
If a PCA does drive a client somewhere, they are required to clock out for the time spent in transit, and clock back in once they arrived at their destination. To avoid Department of Labor violations, PCA agencies are still required to pay their employee for that entire time – as it was all spent working – but can't bill for it, Gerrits said.
The change would not increase the number of billable hours allotted for PCAs to provide services – those hours are based on "essential" activities like dressing and bathing, not "instrumental" activities like shopping for food or helping with laundry – it would simply allow the available hours to be used in a way that makes more sense, testifiers said.
PCAs would need to have a valid driver's license and the vehicle would need to be registered and insured according to Minnesota law.