After justice is served, can it be re-served?
Maybe.
Sponsored by Rep. Kelly Moller (DFL-Shoreview), HF901 would allow prosecutors to initiate a process to resentence a person convicted of a crime provided the resentencing does not increase prison time, or, if the person is on probation, increase the period of supervised release.
"This legislation recognizes the role that prosecutors have as ministers of justice by enabling them to seek sentence reductions for people who have been rehabilitated," Moller said.
By a vote of 13-5 Thursday, the House Public Safety and Criminal Justice Reform Finance and Policy Committee approved the bill, as amended, and sent it to the House Floor. There is no Senate companion.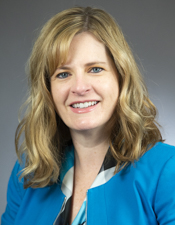 Rep. Kelly Moller
Moller, who also works as an assistant Hennepin County attorney, said the impetus for the proposal is hearing from probation officers and prison officials frustrated because they have no way of softening the punishment for offenders who have shown true rehabilitation and remorse.
The bill would permit prosecutors to review cases at their discretion and would direct them to make good-faith efforts to seek input from any identifiable victims before commencing a proceeding. Victims could submit written statements, or appear at a court hearing to reduce a person's sentence.
"We carefully considered victim rights and ensured that they are included throughout this process," Moller said. She noted the bill is supported by the Minnesota Coalition Against Sexual Assault and other victim advocacy groups.
Rep. Brian Johnson (R-Cambridge) said those steps would not sufficiently protect victims, and said he would not support the legislation.
A judge hearing a sentence-reduction petition would need to consider multiple factors, including the impact it would have on public safety and the individual.
An individual's performance on probation or supervised release, disciplinary records, and other evidence of rehabilitation, remorse, or significant changes in law could also be considered.
Moller said similar legislation in California shows that giving prosecutors the option of asking a court to reduce an offender's sentence or length of probation provides incentives for people to seek rehabilitation programs in prison and to comply with terms of a supervised release.
The bill has the support of the Department of Corrections, the Hennepin County attorney's office, and Ramsey County Attorney John Choi.
"This legislation gives us the ability to do something if justice requires it," Choi said.