Privately owned prisons are bad for so many reasons, says House Majority Leader Ryan Winkler (DFL-Golden Valley), but foremost is a business model that incentivizes keeping prisoners incarcerated longer.
That model "is a thing of the past," he said, and not in line with the state's rehabilitation model.
Winkler sponsors HF1074 that would require state prison and local jail inmates to be housed only in publicly owned and operated facilities.
By a 15-3 vote, the House Public Safety and Criminal Justice Reform Finance and Policy Committee approved the bill Friday and sent it to the House Floor. There is no Senate companion.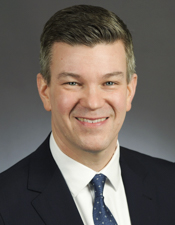 House Majority Leader Ryan Winkler
The legislation is aimed at the Prairie Correctional Facility, built by the city of Appleton.
The 1,600-bed, medium-security prison opened in 1992 and was purchased in 1997 by the Nashville-based Corrections Corporation of America, now called CoreCivic. It has been vacant since closing in 2010.
William Pharr, now a corrections officer at the state-run Lino Lakes prison, worked at the Appleton facility for more than a decade.
The owners of the facility, he said, had a "perverse incentive" to encourage recidivism and they lobbied for laws that would incarcerate more people. They also tried to keep only the healthiest prisoners, he said, as a way to save on expenses.
"We cannot risk the inadequacies which the private prison industry will undoubtedly bring to our state," he said. "It's a sham and should be kept out."
Rep. Brian Johnson (R-Cambridge) doesn't want privately owned and operated prisons in the state, but does not support the bill because it would prohibit renting space to temporarily house inmates during times of prison overcrowding.
The state should have a lease-to-own option to rent space in such facilities, he said, provided it was operated with Department of Corrections employees.
Not having that option, he said, "puts a real hardship on counties."