Giving birth can be painful enough, but the unbearable pain a mother feels when her newborn baby is taken from her after just a few hours or days can be even worse.
That's what happens when pregnant inmates give birth, says Rep. Jamie Becker-Finn (DFL-Roseville). It unnecessarily traumatizes babies and new mothers by separating them at the most critical time for bonding.
She sponsors HF1403, which would allow the Department of Corrections to conditionally release, for up to one year, an inmate who is postpartum and gave birth within eight months of the date of commitment.
"This bill is an incredible opportunity to disrupt cycles of trauma," Becker-Finn said.
The House Public Safety and Criminal Justice Reform Finance and Policy Committee approved the bill, as amended, 17-0 Friday and sent it to the House Floor. The companion, SF1315, sponsored by Sen. Mary Kiffmeyer (R-Big Lake), awaits action by the Senate Judiciary and Public Safety Finance and Policy Committee.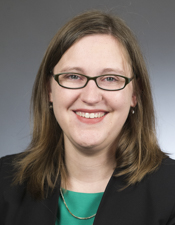 Rep. Jamie Becker-Finn
Both bills have been dubbed the "Healthy Start Act," and a unique aspect of the House bill is all 35 sponsors are women.
Conditional releases would be permitted to places such as halfway houses that have standard monitoring and security systems in place, said Corrections Commissioner Paul Schnell.
If an inmate has more time to serve after her conditional release she would return to prison unless the Corrections Department decides another option.
Safia Khan, the department's director of government and external relations, said of the 278 pregnant women sentenced to serve time in Minnesota between 2013 and 2020, 77% were in prison for technical violations of supervision, and 84% had non-violent offenses.
A majority, 54%, were released within six months of giving birth, she said.
Those statistics reveal the tragedy of state laws dictating rules on inmates giving birth and how they are counterproductive to the critical first year of mother-child bonding, said Rep. Marion O'Neill (R-Maple Lake).
"When you separate an infant from their mother, you don't get that time back. And you are damaging that child when you do that."
Proposed by the Corrections Department, the bill is supported by several advocacy groups submitting written statements, including the Minnesota Section of the American College of Obstetricians and Gynecologists, Minnesota Coalition for Targeted Home Visiting, Minnesota Prenatal to Three Coalition, Minnesota Adult and Teen Challenge, Children's Defense Fund Minnesota, and Robina Institute of Criminal Law and Criminal Justice.