"We have got a community that is still traumatized and still struggling to find a pathway forward."
Those were the words Rep. Mohamud Noor (DFL-Mpls) used to describe the need to help businesses rebuild and recover from the destruction caused by the last summer's civil unrest.
He sponsors HF6, which, as amended, was approved Friday by a party-line 8-4 vote of the House Workforce and Business Development Finance and Policy Committee and sent to the House Taxes Committee.
The companion, SF165, sponsored by Sen. Bobby Joe Champion (DFL-Mpls), awaits action by the Senate State Government Finance and Policy and Elections Committee.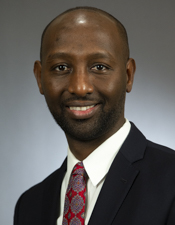 Mohamud Noor
The "Providing Resources, Opportunity, and Maximizing Investments in Striving Entrepreneurs (PROMISE) Act" would create a Civil Unrest Immediate Relief Program funded by a $267.6 million General Fund appropriation in fiscal year 2021.
The Department of Employment and Economic Development would distribute the money through grants and loans to eligible organizations developing economic relief programs for Minneapolis, St. Paul, and surrounding areas to rebuild and recover from destruction that occurred after the death of George Floyd.
Noor, the committee chair, said the Legislature failed in its duties when it didn't pass the PROMISE Act last summer, and the need for financial assistance has only grown since then. The House passed the measure as part of a larger bill in June 2020, but the Senate did not.
"This is a moment for us to show that we can always provide the help that is needed," Noor said.
Grants would be capped at $250,000 per eligible organization and would require funded groups to remain in the community for at least three years.
Loans would be capped at $500,000 per eligible organization, and would require funded groups to have plans for continued operation, plus remain in the community for a minimum of three years.
Loans could be deferred for up to three years, or forgivable, and all loan repayments would be returned to the General Fund.
Sales tax exemptions would be provided for:
construction materials, supplies and equipment for rebuilding or repair of damaged buildings, including purchases by contractors and subcontractors;
replacement of capital equipment; and
cleaning and disinfecting services related to smoke damage and graffiti.
The bill would provide property tax abatements and a five-year valuation freeze for damaged properties.
The state has the resources to help Twin Cities businesses to rebuild, Noor said, and it is in the interest of all Minnesotans, no matter where they live in the state, to help them recover.
Rep. Rod Hamilton (R-Mountain Lake) questioned how the bill would fit together with HF728, a $300 million bonding bill. Sponsored by Rep. Fue Lee (DFL-Mpls), it was approved by the committee and sent to the House Ways and Means Committee.