The Page Amendment, a proposal to change state constitutional language relating to public education, received an informational hearing by the House Education Policy Committee Monday.
Sponsored by Rep. Hodan Hassan (DFL-Mpls), HF874 would amend the Minnesota Constitution to specify that all children have a fundamental right to a quality public education. There is no Senate companion.
The effort is spearheaded by former Supreme Court Justice Alan Page and Minneapolis Federal Reserve Bank President Neel Kashkari. Noting that Minnesota has among the largest student achievement gaps by race, ethnicity and socio-economic status, advocates say the state's education system fails to serve all students and a constitutional amendment is an important step toward addressing that.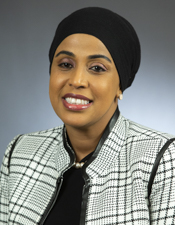 Rep. Hodan Hassan
"Our current constitutional language was written in 1857 when slavery was still legal, Native Americans didn't have any rights and women could not vote, therefore, we shouldn't be surprised that our system is only working for the people it was intended to in 1857," Hassan said.
Current language outlines the Legislature's role in providing an "adequate" public education, whereas the new language would not only modify standards, but shift that responsibility to all three branches of government, Page said.
"The value of having education as a civil right is that when that right is not fulfilled, a child or their parents will be able to step forward and have that right fulfilled by the courts, and that is central to our proposed amendment," he said.
Supporters, including Rep. Ron Kresha (R-Little Falls), say current investments are having minimal impact on addressing achievement gaps and are instead creating a "bureaucratic system of government agencies that follow the kids haphazardly through childhood and into adolescence."
"Taxpayers deserve better, parents deserve better; more importantly, our children deserve better," he said. "This isn't about budget targets or protecting turf or continuing failed programs because we're too afraid to admit an idea didn't work. It's about higher expectations, it's about believing every child is capable of success."
Opponents say some of the proposed language has no defined meaning in current law and could weaken existing Minnesota Supreme Court decisions. It would also eliminate a reference to taxation as a means for securing school funding, according to Elise Boddie, a Rutgers University law professor.
"This amendment might seem to come bearing gifts, but with its unclear and untested language I suspect that it is really a Trojan horse that creates an unacceptable risk of unraveling hard won educational victories for Minnesota's most vulnerable children," she said.  
Jim Hilbert, ad hoc counsel of the MN-Dakota Area Conference NAACP, reiterated Boddie's point, saying the proposed language would need to be interpreted by courts through lawsuits.
"Why not skip the years of litigation and the uncertainty of court rulings and just get to the remedy," he said. "This is a critical conversation. We don't need to be talking about legalistic solutions, let's talk about what the Legislature can do right now."
There was common ground among several testifiers who agreed that even if the constitutional amendment were to be adopted, continued investments in public education would be needed to create change.
"It's crucial to shine a light on the fact this proposed amendment won't solve all of our educational inequities," Hassan said. "We need to fully fund schools … we must address the housing crisis, wealth inequities and systemic racism to be able to tackle this beast we call the 'opportunity gap.'"