The 2012 law that led to construction of U.S. Bank Stadium included creation of a stadium reserve account to cover shortfalls or paying down stadium-related debt and expenses.
It was anticipated that much of the state's up to $348 million investment would come via taxes on charitable gaming, including electronic pull tabs authorized by the law.
While that funding started slowly, it and other sources now bring in significantly more money than is needed to make annual debt service payments on bonds and cover other stadium-related expenses.
According to information from RBC Capital Markets, "Based on the February 2021 State Budget Forecast, the stadium reserve account is now expected to have a $200.7 million balance in 2023."
Rep. Michael Nelson (DFL-Brooklyn Park) wants to ensure money remains to pay the bonds.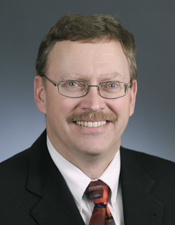 Rep. Michael Nelson
He sponsors HF1388 that would establish a stadium payoff fund to be filled annually with the excess after stadium-related expenses, or $44 million. According to the nonpartisan House Research Department, stadium reserve account spending totaled about $42 million in fiscal year 2020.
The bill was approved 13-0 Monday by the House State Government Finance and Elections Committee and sent to the House Taxes Committee. Its companion is SF836. Sponsored by Sen. Tom Bakk (I-Cook), it awaits action by the Senate Finance Committee.
Before the COVID-19 shutdown, many members were eying that money to spend on things, Nelson said. "If all those things legislators were looking at, if they had done those, there wouldn't have been money in that fund to pay the bonds."
For example, a 2018 supplemental finance bill proposed using $26 million in excess stadium reserve funds to pay for three veterans' homes and $4 million to establish a sexual harassment investigations office for state employees. It did not become law.
Gov. Tim Walz looks to intercept $130 million from the fund to help pay for his proposed $52.4 billion budget for the 2022-23 biennium.
That would leave $100 million in the account, something Minnesota Management and Budget Commissioner Jim Schowalter said in January would be "more than enough to handle any unexpected reductions in revenue."
Others have argued the extra money would be better used to refinance bond debt and pay off the building early. Bonds sold in 2014 cannot be refinanced until June 1, 2023; however Minnesota Vikings' officials have previously said doing so at that time could result in stadium bonds being paid off in 20 years, rather than 30.
"Based on current market conditions, a refunding in 2023 using $156.7 million of the projected stadium reserves would achieve debt service savings of $368.1 million (or $211.4 million net of the reserve contribution)," stated information from RBC Capital Markets.
At the other end of Downtown Minneapolis, bonds used to finance Target Field were refinanced after 9 1-2 years and are on track to be paid off 10 years early. Hennepin County has used excess sales tax revenue to save more than $130 million in debt service.
"Once the stadium gets paid off … that frees up a lot of money for the state to spend on other items," Nelson said.
"There is benefit in preserving that stadium fund and making it so those bonds can be refinanced so that ultimately taxpayers in the state can get off the hook for the stadium more rapidly than previously possible," said Rep. Jim Nash (R-Waconia).
As the fund balance continues to grow, a November 2019 report by the Office of the Legislative Auditor noted a "strategic conversation" should be held to discuss usage of account monies and "spending decisions merit more legislative attention."
An amendment unsuccessfully offered by Rep. Jon Koznick (R-Lakeville) would, once stadium bonds are paid off, use the revenue stream to service trunk highway bonds and further fund the Municipal Street Aid Street program.