While Minnesota has had some of the largest school support staff to student ratios in the nation, advocates say with the ongoing and residual effects of the coronavirus pandemic it's more important now than ever to address the issue.
Sponsored by Rep. Kaela Berg (DFL-Burnsville), HF1742 as amended, would create a new ongoing state aid program to fund additional school support personnel.
The bill was held over by the House Education Finance Committee Wednesday for possible omnibus bill inclusion. The companion, SF1965, awaits action by the Senate Education Finance and Policy Committee. Sen. Mary Kunesh (DFL-New Brighton) is the sponsor.
In fiscal year 2017, there was an average of one school counselor for every 659 students statewide, 45% above the national average and significantly higher than the 250-1 ratio recommended by the American School Counselor Association, according to Shana Morse, assistant director of government relations at the Department of Education.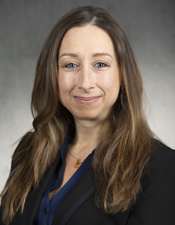 Rep. Kaela Berg
"Student challenges such as absenteeism, behavior and discipline issues, violence, truancy and dropping out altogether can often be linked to unmet social, emotional and physical health needs that significantly impact students' academic achievements," Morse said. "And we know that the work of school counselors, social workers, school psychologists, school nurses and chemical dependency counselors help our students in these areas."
In addition to creating a new funding formula, the bill would appropriate $41.86 million during the 2022-23 biennium for districts to hire new personnel. It would also require every district to report the impact of the funds annually and how the money has affected school climate, attendance rates, academic achievement, career and college readiness and/or postsecondary completion rates.
Proponents say the funding would not only give students more access to school support personnel, it also would help decrease caseloads for existing staff in order to support more effective and comprehensive services and improve outcomes and career and college success.
"I must keep it real and honest. I'm not enough for my caseload of 690 students," said Caleb Willis, a school counselor at Maple Grove Middle School. "If I feel like I'm not enough, then you can image the way our students feel, especially for students of color who too often feel the inferiority of this system."
Rep. Steve Drazkowski (R-Mazeppa) opposes the bill, particularly because it would create a new funding component for a specific use, as opposed to providing the funding through a general revenue increase, which is more flexible for districts. 
"Why do we continue to bring forward more inflexible, rigid, cookie-cutter approaches that further complicate the school funding system here in Minnesota that make it less transparent and make it less adaptable and useable for our school districts?" he asked.
The proposal would provide a degree of local control, Berg said, by allowing districts to hire support personnel most needed in their communities, rather than specifying which positions would need to be hired.