Lawmakers are looking to ensure that employees of companies hired to perform work inside Minnesota's two oil refineries have certain levels of training.
HF984, sponsored by Rep. Dave Lislegard (DFL-Aurora), would require refineries that use contractors to turn to companies where at least 85% of employees have experience with registered apprentice programs applicable to their trade.
Registered apprentices, graduates of apprenticeship programs and employees who have completed the classroom and training hours needed for such programs, would qualify.
The provision would apply to contractors and subcontractors doing on-site construction, alteration, demolition, installation, repair, maintenance or hazardous-material handling, but not to refinery employees.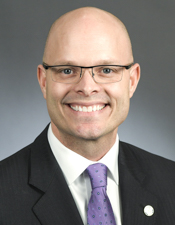 Rep. Dave Lislegard
On Wednesday, the bill was approved, as amended, along party lines by the House Labor, Industry, Veterans and Military Affairs Finance and Policy Committee and referred to the House Judiciary Finance and Civil Law Committee.
Its companion, SF634, is sponsored by Sen. Karla Bigham (DFL-Cottage Grove) and awaits action by the Senate Labor and Industry Policy Committee.
Supporters, which include the Department of Labor and Industry, say the bill would help keep workers safe in dangerous environments because apprenticeship programs ensure they are well-trained on important safety measures.
"We owe it to the men and women who work in these facilities to ensure that there's protection each and every day they go to work," Lislegard said.
But Adam Hanson, director of government and public affairs for the Associated Builders and Contractors of Minnesota and North Dakota, said workers who don't complete apprenticeship programs can also perform work safely.
Rep. Joe McDonald (R-Delano) said he doesn't think experienced workers who haven't gone through apprenticeship programs should have to go through them just to work in refineries.