Kim Munson has a daughter with Type 1 diabetes and a husband who must carry an EpiPen due to a severe shellfish allergy.
The supplies for her daughter include a continuous glucose monitor, an insulin pump and syringes, which are even more expensive than her diabetes medications.
"It drains our checking account each month," she said.
Cutting the high cost of prescription medications requires fighting on many fronts, says Rep. Michael Howard (DFL-Richfield).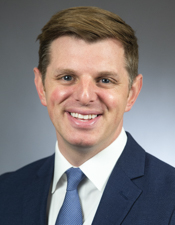 Rep. Michael Howard
He sponsors HF2056, which would contribute to the cause by capping co-payments on prescription drugs to treat chronic conditions at $25 per month.
The House Commerce Finance and Policy Committee approved the bill Tuesday by a 10-7 party-line vote and sent it to the House Health Finance and Policy Committee. There is no Senate companion.
State-regulated health plans would be affected by the bill, which defines chronic conditions as diabetes, asthma and allergies requiring the use of epinephrine auto-injectors. Medical supplies necessary to administer these drugs would also be capped at $25 per month.
Insurance plans purchased by large employers in self-insured markets would not be affected.
Dan Endresen, senior director of policy and government affairs for the Minnesota Council of Health Plans, opposes the bill because it would not have the intended effect of lowering drug costs to consumers.
"Health plans will likely have no choice but to shift their costs to premiums," he said.
That sentiment was shared by Rep. Tim O'Driscoll (R-Sartell), who said that without downward price pressure on the drug manufacturers who set prices, the bill would not change costs ultimately paid by consumers.