In Minnesota, clinicians in substance use disorder treatment programs can spend more than 25% of their time away from clients, working on paperwork.
This can lead to burnout and drive talented, compassionate people away from the field, when the state is already struggling with a shortage of services and providers, said Dr. Lance Egley on behalf of the Minnesota Association of Resources for Recovery and Chemical Health.
Reducing the burden of this excessive and unnecessary paperwork comprises the core concern of HF2116, sponsored by Rep. Luke Frederick (DFL-Mankato).
The House Behavioral Health Policy Division amended and approved the bill 11-0 Wednesday and referred it to the House Human Services Finance and Policy Committee.
A companion, SF1350, is sponsored by Sen. Paul Utke (R-Park Rapids) and awaits action by the Senate Human Services Reform Finance and Policy Committee.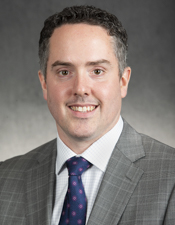 Rep. Luke Frederick
The current "piecemeal" system of requirements and forms has accumulated over the course of decades and includes "unnecessarily duplicative, confusing, or impractical rules," Egley said.
"One of the things that we can do, in addition to adding more people into the workforce, is give our providers more time – more face-to-face time – with the people that they are serving," Frederick said.
These changes are "essential" to the effective integration of other reforms and would support both past and ongoing efforts to increase access to services, strengthen the workforce, and create sustainability, said John Magnuson, executive director of MAARCH.
Much of this unnecessary, duplicative work has already been successfully eliminated in the mental health treatment field, reducing the strain on providers and cutting down on the time it takes for patients to access care. But programs focused on the treatment of substance use disorders have been left behind, Egley said.
While the Department of Human Services has voluntarily started the collaborative process of reducing paperwork strain for these programs, those efforts have not yet led to "the substantive changes needed," he said.
This bill would drive the process by requiring:
the department to consult with stakeholders to develop, test, and recommend systems improvements;
the cooperation of MN.IT and the Department of Health's Division of Health Policy;
the Human Services Department to contract with a consultant – with experience guiding similar projects in other states – to develop the improvements;
the implementation of improvements to begin by Dec. 15, 2022; and
a report to the Legislature.
One-time General Fund appropriations of $200,000 in fiscal year 2022 and $118,000 in fiscal year 2023 would be made available until Dec. 15, 2023 to accomplish this work.