Minnesota's rural cities could get funding to fix up ailing single-family homes, which advocates say could help address a shortage of workforce housing outside of the Twin Cities.
HF1916, sponsored by Rep. Tama Theis (R-St. Cloud), would dedicate $5 million from the General Fund in fiscal year 2022 for single-family home rehabilitation outside of the seven-country metro area.
Cities could receive up to $200,000 and could spend up to $50,000 on a single project.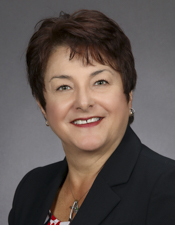 Rep. Tama Theis
On Thursday, the bill was laid over for possible omnibus bill inclusion by the House Housing Finance and Policy Committee. Its companion, SF1904, is sponsored by Sen. Zach Duckworth (R-Lakeville) and awaits action by the Senate Housing Finance and Policy Committee.
"I think this is a really good time to have something like this out there," Theis said.
In rural cities, rehabbing dilapidated houses is often a money-losing proposition so cities sometimes tear them down, said Scott McMahon, executive director of the Greater Minnesota Partnership.
Rehabbing the homes instead could increase a city's tax base, said Chad Adams, CEO of the Southwest Minnesota Housing Partnership.
Rep. Liz Reyer (DFL-Eagan) said she likes to see new approaches to preserving affordably priced housing built without subsides and asked whether the $50,000 per-project cap would be enough for adequate rehabilitation.
McMahon said cities might be better off tearing down houses that need more than $50,000 worth of work.