When that surge of arctic air plunged down the Plains on Presidents Day weekend, all sorts of unprepared energy infrastructure in places like Oklahoma and Texas froze up and natural gas prices soared.
But what would happen if Minnesota's homes and businesses weren't reliant upon what's extracted from the grounds of Southern states to heat their homes? Is there another way of getting natural gas?
Rep. Zack Stephenson (DFL-Coon Rapids) would like to find out. That's why he's sponsoring HF239, the Natural Gas Innovation Act. It would encourage natural gas utilities to develop innovative resources that may elbow aside the status quo, among them renewable natural gas, biogas, power-to-hydrogen and power-to-ammonia.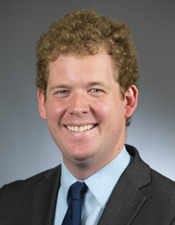 Rep. Zack Stephenson
Replaced by a delete-all amendment, the bill was approved 9-8 by the House Climate and Energy Finance and Policy Committee Thursday and sent to the House Ways and Means Committee. Its companion, SF421, sponsored by Sen. Bill Weber (R-Luverne), awaits action on the Senate floor.
The Commerce Department would receive $189,000 in both fiscal years 2022 and 2023 to monitor the program.
"We need to make some changes to our natural gas systems," Stephenson said. "We need to make it more local, more efficient and more in line with our goals of reducing greenhouse gas emissions. This bill would encourage utilities to pursue pilot projects that don't rely on carbon-based sources. … The bill has bipartisan support. Last year, a similar bill passed the Senate 67-0."
The state's largest natural gas provider, CenterPoint Energy, favors the legislation.
"This will allow us to bring economic and environmental benefits to Minnesota," said CenterPoint Energy regulatory analyst Erica Larson. She said her company is particularly enthusiastic about pursuing renewable natural gas – which employs food waste – and renewable hydrogen. The company is currently building its first such facility in Minneapolis.
Three amendments to the bill were approved by the committee, including one requiring a progress report for the Legislature on the projects and another employing clarifying language.
One that seemed key to assuring the committee's approval was proposed by Rep. Fue Lee (DFL-Mpls). It removed language that would limit the alternative sources to renewable natural gas, biogas, power-to-hydrogen and power-to-ammonia, and its requirement that 50% or more of costs be related to the procurement of those sources.
With the change, testifiers from Fresh Energy and the Minnesota Center for Environmental Advocacy who had been neutral on the bill due to those provisions — which they believed were too limiting in potential technologies — said that they would now be supportive.