While just about everyone agrees more money is needed for Minnesota's roads, ongoing funding sources are few and the competition for those dollars among the many worthy construction and maintenance projects is fierce.
The House Transportation Finance and Policy Committee held over a proposal Thursday that would use some of that revenue to fund an 8-year-old program meant to add highway capacity on bottlenecked roads to improve the movement of freight, but that has had problems of its own.
Sponsored by Rep. Paul Torkelson (R-Hanska), HF958 would dedicate a portion of the revenue collected from fuel, vehicle registration and sales taxes – that he said could amount to $300 million per year – to the Corridors of Commerce program.
The bill was laid over for possible inclusion in the omnibus transportation bill. The companion, SF1300, is sponsored by Sen. John Jasinski (R-Faribault) and awaits action by the Senate Transportation Finance and Policy Committee.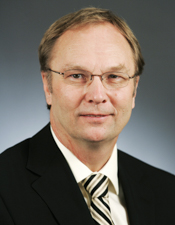 Rep. Paul Torkelson
Established in 2013, the program has contributed hundreds of millions of dollars to projects such as the expansion of Highway 14 from Owatonna to Dodge Center. But the process of distributing money to specific projects has proven controversial at times and Torkelson said the selection criteria need to be revisited as does the program as a whole.
Torkelson said Corridors of Commerce was created to fund projects not moving forward but that still had a lot of legislative support. He said the program has had a "bumpy ride" through its history but still had served many parts of the state well.
"I am looking at the Corridors of Commerce program in hopes of finding ways to make it viable and valuable for the future," Torkelson said.
The bill, which he conceded is "still a work in progress" would appropriate 10% of the money allocated to the trunk highway fund from various user taxes. It would also modify the program's project selection criteria by adding project readiness and requiring that statutorily listed criteria are given equal consideration.
Erik Rudeen, the Department of Transportation's director of government affairs, said dedicating existing money to Corridors of Commerce would take that money away from other road projects or important uses and could make it more difficult to secure matching federal funds.
"Regardless of what we do, not every project is going to be funded," Rudeen said.
Torkelson said he hopes a "redesigned" program could allow for "reasonable" legislative input in helping to set projects that have broad support at the Legislature "on the road to proper evaluation and eventually funding."
He said he would continue to work to make the program "relevant" in the funding process and Rep. Frank Hornstein (DFL-Mpls), the committee chair, told Torkelson he was committed to working with him on the issue.