As the pandemic pushed many day-to-day activities online, public libraries stepped in to help provide vital access to technology and broadband.
In an effort to help them continue to meet these changing needs, and to broaden access to these services statewide, HF1710, sponsored by Rep. Dan Wolgamott (DFL-St. Cloud), would increase funding for the state's regional public library systems and modify the aid distribution formula.
"Advances in internet capacity are not making libraries irrelevant, in fact it's the opposite," he said. "Demand for library services is steadily increasing. Citizens of all ages rely on public libraries for lifelong learning and digital literacy."
The bill was held over, as amended, Wednesday by the House Education Finance Committee for possible omnibus bill inclusion. The companion, SF1131, sponsored by Sen. Mark Johnson (R-East Grand Forks), awaits action by the Senate Education Finance and Policy Committee.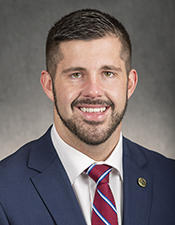 Rep. Dan Wolgamott
There are 12 regional public library systems throughout the state that are generally operated through, and primarily funded by, cities and counties. However, the state provides $13.6 million annually, which covers approximately 7% of the systems' operating costs. 
That funding is provided through the K-12 education budget and is disbursed based on four factors: population (57.5%), tax base (25%), geographic size (12.5%) and base funding (5%), which is allocated evenly to each regional system.
This formula is more unstable than other education formulas, according to Karen Pundsack, executive director at Great River Regional Library.
"It is not unusual for a library's distribution amount to vary by 30% or more year over year," she said.
The bill would modify the funding formula by lowering the aid distributed based on tax base to 10% and, in turn, increase the aid that is evenly allocated by that same percentage. It would also increase the library systems' appropriation by $2 million per year in fiscal years 2022 and 2023, which Pundsack said is needed to adjust the formula without taking dollars away from any region.
The proposal has the support of all 12 regional libraries, she said, "This crucial change will provide regional public libraries a better base of support to serve students and families."