Do you trust the police?
People of color who live every day under perceived systemic racism in law enforcement and the criminal justice system would likely answer "no" to that question.
Those people are my constituents, says Rep. John Thompson (DFL-St. Paul). Their mistrust is why he's proposing legislation that would require law enforcement agencies to release unedited body camera recordings of deadly force incidents to the deceased person's family and representatives within 48 hours of the incident.
He sponsors HF1103 because transparency is critical to ensure police officers and police agencies cannot cover up wrongdoings that may occur in a deadly force incident.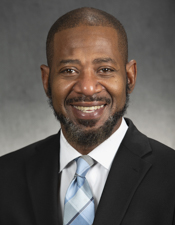 Rep. John Thompson
"We are here because of one reason, and that's bad policing," Thompson said. "I'm not saying that all police officers are bad, but the bad ones are making the good ones look very bad."
The House Public Safety and Criminal Justice Reform Finance and Policy Committee approved the bill, as amended, on a party-line 11-8 vote Thursday and sent it to the House Judiciary Finance and Civil Law Committee. The companion, SF807, sponsored by Sen. Omar Fateh (DFL-Mpls), awaits action by the Senate Judiciary and Public Safety Finance and Policy Committee.
Law enforcement agencies would be prohibited from withholding body camera recordings of incidents involving the use of deadly force from the person's family and representatives because the data is an investigatory record or compiled for law enforcement purposes.
Although he understands why law enforcement agencies need to keep body camera footage as evidence, Thompson said there are too many examples of police abusing that prerogative to withhold evidence of officer misconduct.
It's a matter of not trusting the police to do the right thing, he said, noting the longer the police have video evidence, the longer they have the time to remix and edit it to make themselves look favorable.
"The public does not want the remixed versions of these videos put out. The public wants clear, unedited video," he said. "We can tell when a video is paused and something is taken out."
Republicans echoed concerns of law enforcement personnel who said releasing raw video before investigations are complete would jeopardize criminal prosecutions and quite possibly violate the privacy of bystanders witnessing a deadly force incident.
Jay Henthorne, Richfield chief of police and director on the board of the Minnesota Chiefs of Police Association, said the 48-hour turnaround for releasing video was especially problematic.
"Interviews of those directly involved and other key witnesses will usually not have taken place within 48 hours of the incident," he said. "By releasing the video, the balance of protecting the integrity and quality of the investigation could be tainted as the video could be made public without steps being completed prior to those interviews or statement being taken."