A bill to extend the period in which certain workers who have tested positive for COVID-19 are eligible for workers' compensation based on the presumption they contracted virus from work has passed the House.
Sponsored by Rep. Dan Wolgamott (DFL-St. Cloud), HF1203 builds off a 2020 law that created the presumption for health care workers, public safety employees and workers providing emergency child care.
That presumption is scheduled to sunset on May 1, but under the bill, it would not expire until Dec. 31, 2021.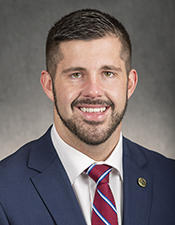 Rep. Dan Wolgamott
The bill was passed 102-28 Thursday and now moves to the Senate, where Sen. Jeff Howe (R-Rockville) is the sponsor.
"This legislation has done its job, it's been under budget and it needs to continue," Wolgamott said.
In April 2020, the House passed the original presumption bill to offer protection for certain employees who fell with COVID-19.
Wolgamott said 86% of claims submitted by eligible employees under the law have been approved and that the bill has cost significantly less than projected.
"Our legislation had their backs," he said.
Originally, the bill would have extended the presumption through May 1, 2022, but Wolgamott revised the bill to align with the recommendations of the Workers' Compensation Advisory Council.
Another bill, HF2253, which was passed 128-3 by the House, would also extend the presumption through December. Wolgamott said he has pushed his bill as a backup measure in case HF2253 is delayed. Sponsored by Rep. Mike Sundin (DFL-Esko), it, too, is Senate bound. Sen. Paul Utke (R-Park Rapids) is the Senate sponsor.
"With the clock ticking to May 1, I want to make sure that we have every vehicle available to ensure that we don't leave our first responders out to dry in battle against this the pandemic," Wolgamott said.