Say you're driving an electric vehicle and you see that your battery's running low on juice. Where can you stop for a while and charge up?.
County government centers would be destinations where you could boost your battery under a bill sponsored by Rep. Greg Boe (R-Chanhassen). HF2234 would require electric vehicle charging stations to be installed at the parking facilities of county government centers throughout the state.
The bill, as amended, was laid over Friday by the House Climate and Energy Finance and Policy Committee for possible omnibus bill inclusion. It has no Senate companion.
A total of $4.1 million would be appropriated from the Renewable Development Account to the Commerce Department for the statewide project, a correction in authorizing agency made in an oral amendment.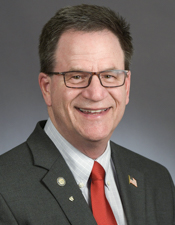 Rep. Greg Boe
The account is administered by the state for grants for the development of renewable energy sources in Minnesota. It's funded by Xcel Energy, which gives the state between $350,000 and $500,000 annually according to how much nuclear waste it stores at its Prairie Island and Monticello power plants.
"If we hope to expand the use of electric vehicles, we will need to increase the availability of charging stations," Boe said. "I noticed the other day a Consumer Reports poll saying 7 of 10 Americans are interested in electric vehicles. But charging options are causing concern."
Connor Anderson is a sales representative for ChargePoint, which operates an online network of independent charging stations. "There are 27 rapid-charge stations in Minnesota and about 200 level-two [AC] stations," he said. "Electric vehicle use in the state is increasing 10% quarter over quarter. If that rate continues, you won't have enough infrastructure to keep up."
Rep. Glenn Gruenhagen (R-Glencoe) asked, if his electric vehicle's battery is on zero, how long it takes to charge to full capacity.
"For a DC station – which is the kind we're encouraging -- you'll see a full charge in 1 ½ to 2 hours," Anderson said. "Some can be as low as a half hour."
It wasn't the only bill involving government buildings and renewable energy laid over by the committee on Friday. HF2109, sponsored by Rep. Jamie Long (DFL-Mpls), would provide funding for the installation of solar photovoltaic devices in state-owned buildings.
Isabel Ricker, senior clean electricity manager for Fresh Energy, said, "This would create a new pathway to lower utility bills and lower the cost of government operations. … Public buildings are great candidates for solar as they tend to have large flat roofs. And they're often older buildings with high utility bills."
Its companion, SF2106, sponsored by Sen. David Senjem (R-Rochester), awaits action in the Senate Energy and Utilities Finance and Policy Committee.