The Minnesota Rehabilitation and Reinvestment Act would be "a complete game changer," says Rep. Jamie Becker-Finn (DFL-Roseville).
Part of Gov. Tim Walz's revised budget, the act would expand the types of rehabilitative programs prison inmates receive, and allow inmates to earn early release upon completing certain objectives in those programs.
Becker-Finn said the state corrections system has been steadily working away from a punishment model toward a rehabilitation model for decades and HF2349, which she sponsors, would take a significant step in that direction.
"At its core, this act is about moving from measuring success not by the time a person spends in prison, but how they spend their time," she said.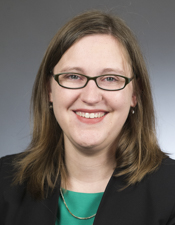 Rep. Jamie Becker-Finn
The House Public Safety and Criminal Justice Reform Finance and Policy Committee held the bill over Friday for possible omnibus bill inclusion. The companion, SF2295, sponsored by Sen. Ron Latz (DFL-St. Louis Park), awaits action by the Senate Judiciary and Public Safety Finance and Policy Committee.
Current law requires state prisons to provide inmates with mental health programs and vocational and educational programs.
That list would be expanded to include appropriate substance abuse treatment programs, sexual offender treatment programming, medical and mental health services, and employment and career programs.
For inmates with one year or more remaining in their sentence, an individualized program would be required that "identifies intended outcomes for addressing the incarcerated person's needs and risk factors, the individual's identified strengths, and available and needed community supports, including victim safety considerations."
Credits would be earned by inmates who complete objectives set out in an individualized plan that would reduce time of incarceration.
Ninety-five percent of inmates in state prisons will eventually be released back into the community, said Corrections Commissioner Paul Schnell. He added public safety is increased if they leave with as many tools as possible to help them succeed and avoid returning.
"We want people to be successful," he said. "It is in our best interest for them to become fully active members of our communities, to become contributors and producers and consumers."
The maximum amount of earned incentive release credit that could be earned and subtracted would be 17% of the imprisonment term.
The credit would not be available to inmates who committed serious crimes and crimes of violence such as murder, criminal sexual conduct, and gang-related crimes, Schnell said.
The Department of Corrections would need to make reasonable efforts to notify the victim of the committed person's eligibility for earned incentive release and take into account victim input statements when establishing requirements governing conditions of sentence reductions.
"We believe this program will actually assist our victim assistance efforts by maintaining closer contact with victims as people come into the prison system," Schnell said.
Thirty-eight other states have earned release policies, according to a department fact sheet.
"They have proven that earned release policies improve outcomes while also saving states millions of dollars (in incarceration costs)," Becker-Finn said.
Financial savings would be invested equally in four areas: the correction system, crime reduction, victim services and returned to the state's General Fund.
Once the act is fully implemented, Schnell said Minnesota has the potential to commit up to $10 million each year to the Justice Reinvestment Fund established by the Legislature in 2016.
Schnell spoke of one successful rehabilitation program currently in use by the department.
Of inmates who volunteered in the Challenge Incarceration Program, 35% were less likely to be re-incarcerated for a new crime and 32% were less likely to reoffend with a new felony conviction. Additionally, the state spent, on average, $4,600 less per participant annually on incarceration costs.