Since October, Minnesotans who need to take the written "knowledge test" in order to get a driver's license could do so in their own homes, provided they have someone who can monitor them during the exam.
Because many of those test takers are minors trying to obtain a learner's permit, these proctors are often parents or guardians. But a proposal heard Friday by the House Transportation Finance and Policy Committee would change that.
Sponsored by Rep. John Petersburg (R-Waseca), HF1692 would forbid relatives, including spouses, fiancés, grandparents, parents, children, siblings or legal guardians, from acting as proctors.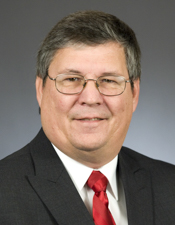 Rep. John Petersburg
The bill, heard on an informational basis, would require that proctors be employees of a driver education program, authorized entity, school, charter school, or state or local government, and that they be physically present when the test is taken.
Petersburg said concerns have been raised about the integrity of the process and he's been hearing reports that some people may be taking advantage of the new rules put in place in response to the pandemic.
"I heard one in which a gentlemen took the test in person three times, couldn't get over 50%, then went home and took it online and got 100%," Petersburg said. "So the question becomes, are we making sure that the testing is accurate?"
A report released several days ago by the Office of the Legislative Auditor that evaluated driver's examination stations, included a recommendation that the Legislature should "clarify" whether the knowledge tests should be taken at home.
"Some of these reports are written and they kind of collect dust on a shelf somewhere, and I think it is really important that we read these reports and act on recommendations, and that's what you're doing Rep. Petersburg," said Rep. Frank Hornstein (DFL-Mpls).
Hornstein, the committee chair, said the bill would be considered for inclusion in the omnibus transportation bill that members will begin to work on when they return from next week's Passover/Easter break.
The companion, SF1399, is sponsored by Sen. John Jasinski (R-Faribault) and awaits action by the Senate Transportation Finance and Policy Committee.