The omnibus labor bill has cleared its first hurdle.
Sponsored by Rep. Rob Ecklund (DFL-International Falls), HF1670, as amended, was approved along party lines Wednesday by the House Labor, Industry, Veterans and Military Affairs Finance and Policy Committee and referred to the House Ways and Means Committee. There is no Senate companion.
"House File 1670 takes a big step toward protecting Minnesota workers," Ecklund said.
The bill includes $77.3 million in appropriations next biennium, including $18.4 million from the General Fund.
It would ban employers from passing on tip-related credit card processing fees to employees and from requesting or using credit information as a condition of employment or hiring, firing or compensation decisions.
It would also require employers to provide nursing and lactating workers with paid break time to express milk.
Other notable provisions would:
create a new requirement that at least 85% of the employees of any contractor working at an oil refinery must have experience with a registered apprenticeship program in the applicable trade;
require existing buildings where people occupy a floor above the reach of fire department vehicles to have automatic sprinkler systems;
establish earned sick and safe time requirements for employees who work more than 80 hours a year, a provision that has already passed the House;
require shuttered hospitality businesses to notify laid-off workers when they reopen and rehire them to positions for which they are qualified before turning to new workers;
provide emergency paid sick leave to essential workers unable to work or telecommute due to COVID-19 related reasons; and
establish safety requirements for meat and poultry processing operations and workplaces.
Mixed reaction
Labor groups and DFLers praised the bill for increasing worker protections. Rep. Kaela Berg (DFL-Burnsville), for example, said employees are more loyal and productive when they receive some of the benefits that have been approved.
Businesses and employers say the provisions are too onerous and overreaching, penalizing those that already take care of employees.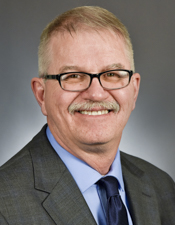 Rep. Rob Ecklund
"A 'do no harm' approach is critically important so that additional cost burdens and mandates are not placed on employers who are doing their best to keep their doors open and people employed," wrote a coalition of business associations called United for Jobs.
The Minnesota Chamber of Commerce says policies such as paid break time for nursing and lactating workers, and requiring the establishment of safety requirements at slaughterhouses, put pressure on employers, particularly small businesses.
Rep. Emma Greenman (DFL-Mpls) said the bill responds to issues raised by workers during committee meetings.
***
What's in the bill?
The following are selected bills that have been incorporated in part or in whole into the omnibus labor, industry, and bureau of mediation services finance and policy bill: