The state's move toward renewable energy would accelerate, solar arrays become more common and electric vehicle infrastructure more accessible under a bill passed by the House on Wednesday.
The omnibus energy and commerce policy and finance bill would also endeavor to make prescription drugs more affordable and give additional rights to those who owe on student loans.
After almost seven hours of debate that included taking up 31 amendments, HF1031/SF972*, as amended, passed the House 70-64 on a party-line vote and will return to the Senate. A conference committee is expected to iron out the differences.
What the Senate approved last week — SF972, sponsored by Sen. Gary Dahms (R-Redwood Falls) — was replaced on the House floor with a delete-all amendment that was the text of HF1031, a bill sponsored by Rep. Zack Stephenson (DFL-Coon Rapids). That's a combination of the omnibus bills that came out of the commerce, and climate and energy, finance and policy committees.
The bill would appropriate $33.6 million from the General Fund to the Department of Commerce in fiscal year 2022, with $28.6 million to follow in fiscal year 2023.
However, for most parts of the bill dealing with energy, the department would oversee appropriations not from the General Fund, but from the Renewable Development Account. That's a state-administered fund designed expressly for the purpose of developing renewable energy sources in Minnesota. Xcel Energy pays into it with annual fees of between $350,000 and $500,000 for each cask of nuclear waste it stores at its Prairie Island and Monticello facilities.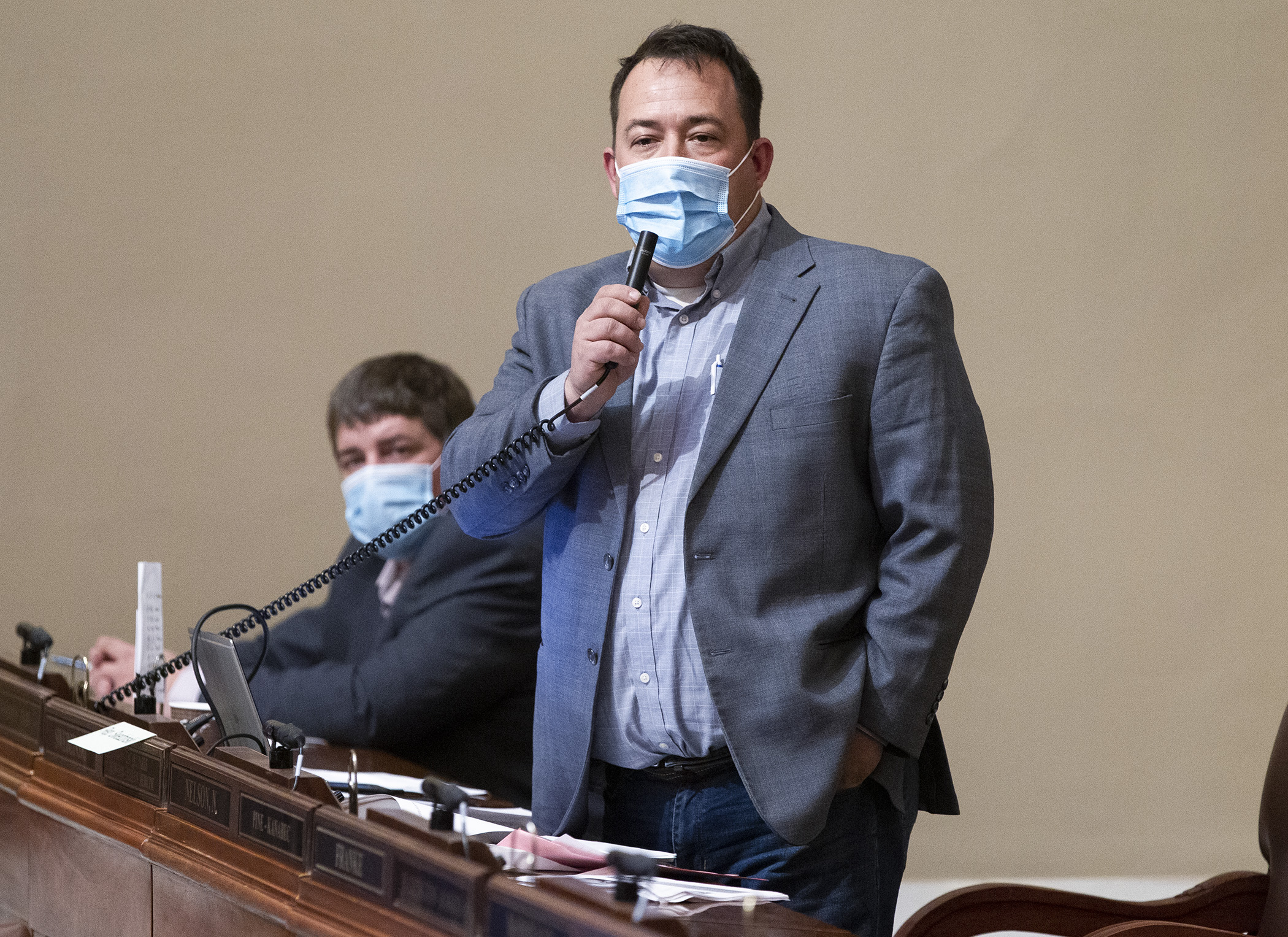 Rep. Chris Swedzinski offers an amendment during the April 21 floor debate of the omnibus energy and commerce policy and finance bill. Photo by Paul Battaglia
Stephenson described the focus of the bill as "recovery from the pandemic, consumer protection, climate change and equity," but emphasized its measures on prescription drug affordability.
"People should not have to choose between paying for the medication they need to live and paying their mortgage," Stephenson said. "This would protect Minnesotans from the monopoly power of big pharmaceutical companies."
Rep. Jamie Long (DFL-Mpls) spoke to the energy portion of the bill.
"This bill is about making sure that Minnesota is leading the charge toward clean energy," he said. "Climate change is not a someday problem. It's impacting our farms, health and way of life right now."
The energy portion
Among the $65.5 million in appropriations from the Renewable Development Account for fiscal year 2022 are grants for the Prairie Island Indian Community's move toward a "net zero" emissions goal, electric vehicle rebates and putting solar panels on schools.
In addition to the appropriations, the bill contains policy provisions related to energy conservation, storage issues, energy transition, climate change, electric vehicles, and solar energy.
Among them, it would:
The bill also includes a host of provisions dealing with electric vehicles, including rebates, state fleet preferences and dealer training.
Appropriations from the Renewable Development Account would include:
After the appropriations, $11 million would remain in the Renewable Development Account.
[MORE: View the spreadsheet]
State government is also entrusted with disbursing the Petroleum Tank Release Compensation Fund (or Petrofund), which reimburses eligible applicants up to 90% of their costs in responding to a petroleum tank leak. The bill includes $11.7 million in transfers from the fund for remediation and $6.2 million for direct contaminated cleanup.
Five amendments were adopted, including three related to energy: They would require owners of community solar gardens to certify that no child or slave labor was used to extract the materials used in their solar panels; would finance a study of the human rights impact of the state's policies in the Democratic Republic of Congo and the Xianjiang Uygur Autonomous Region of China; and would protect the economic interests of Northeastern Minnesota.
The commerce portion
A significant component of the bill is the Prescription Drug Affordability Act. It would establish a Prescription Drug Affordability Board and a related advisory council to review the cost of prescription drugs and set upper payment limits for drugs whose cost creates an affordability challenge to the state health care system or to patients.
The attorney general would be given the power to pursue criminal charges if there is evidence of intentional profiteering by drug manufacturers or others.
Other policy provisions in the bill relating to commerce would:
establish a "Student Loan Borrower Bill of Rights" that would require student loan servicers to be licensed by the Commerce Department and to follow strict procedures relating to the servicing of loans;
prohibit a person from selling an essential consumer good or service at an unconscionably excessive price if the governor declares an abnormal market disruption;
appropriate $300,000 to the Minnesota Council on Economic Education to provide professional development courses on economics and personal finances to Minnesota's K-12 teachers;
require insurance companies to establish an information security program to protect consumers' private data and report "cybersecurity events" such as data breaches to the state;
prohibit a third-party food delivery service from charging a delivery fee that is more than 10% of the order's purchase price; and
make stolen catalytic converters harder to sell by requiring any person who purchases or receives one to record the vehicle identification number of the vehicle from which the catalytic converter was removed and the name of the person who performed the removal.
The commerce portion of the bill was altered by two amendments: One would make a correction to a fund transfer, while another would finance a report on disparities between geographic areas in health insurance rates.
Among objections to the bill were concerns about the ownership and cost to customers of community solar gardens and how changes in policy about electronic pull tabs will affect charities.
 — Session Daily writer Tim Walker contributed to this story.