The process of reconciling the House and Senate versions of the omnibus environment and natural resources bill began Monday, with conferees hearing overviews of the proposals.
Sponsored by Rep. Rick Hansen (DFL-South St. Paul) and Sen. Bill Ingebrigtsen (R-Alexandria), HF1076/SF959* would fund the Pollution Control Agency and Department of Natural Resources next biennium.
The House version would appropriate $371.9 million from the General Fund, while the Senate version would appropriate $317 million.
It also includes the 2020 and 2021 bills to fund projects using the Environment and Natural Resources Trust Fund and funding for the Minnesota Zoo and the Science Museum of Minnesota, among other agencies.
[MORE: View a side-by-side comparison]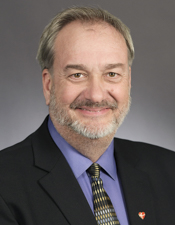 Rep. Rick Hansen
DFLers say the House version would help the state address climate change, pollution, chronic wasting disease, invasive species and racial and economic disparities.
They note new regulations on perfluoroalkyl substances in food packaging, new chronic wasting disease measures, increased funding for managing aquatic invasive species, a prohibition on turtle harvesting and the creation of environmental justice areas.
Republicans say the Senate version emphasizes funding for Minnesota's environmental needs, prioritizes recycling and waste management, targets invasive species and supports groundwater preservation and the state's parks, trails and tourism industry.
They also say it modifies "wasteful" regulations and removes the PCA's authority to enact clean car rules without legislative approval.
[MORE: View the spreadsheet]
The House version would allow cities to ban the use of pollinator-lethal pesticides and dedicate revenues from critical habitat license plates for different purposes depending on the design of the plate. Neither provision is in the Senate version.
Other House-only proposals include:
increasing triennial watercraft fees and the watercraft surcharge;
adding fencing requirements for commercially farmed white tailed deer; and
requiring any county that contains a soil and water conservation district to impose an additional $25 fee on mortgage and deed recordings and registrations subject to the mortgage registration or deed taxes.
The Senate version would prohibit the PCA and DNR from enforcing unadopted rules, require an annual open season for wolves, unless the species is federally considered endangered, and create a mattress stewardship program.
It would also:
require the PCA to purchase unsold zero-emission vehicles from dealerships after 90 days ifrequested by dealership owners. The provision applies if the PCA requires a certain percentage of cars sold annually in the state to have zero tailpipe emissions;
create new walleye and sauger limits; and
change requirements for the completion of environmental assessment worksheets for certain projects. Specifically, in the event a petition is completed requesting an EAW, it must have 100 signatures from residents or property owners in the affected county or an adjacent one. Under existing rules, the 100 petition signatories can come from anywhere in Minnesota.
Conferees plan to continue discussion on the bill Tuesday.