Conferees working to reach agreement on the omnibus transportation finance and policy bill had an amicable start during their first meeting Monday, receiving an overview and a side-by-side comparison of the two bills they will need to reconcile.
But Rep. Frank Hornstein (DFL-Mpls) and Sen. Scott Newman (R-Hutchinson), who sponsor HF1684*/SF1159 and co-chair the conference committee, said negotiations on the bill's most significant differences will have to wait until legislative leaders agree on a final budget target.
"Once we get it, we'll start rolling up our sleeves and really putting the bill together," Hornstein said, adding the target could come sometime in the next week.
Newman agreed and took an optimistic tone.
"I don't anticipate we will pass a transportation bill other than through this conference committee process," he said. "I am very hopeful that is going to work and we are successful."
Newman said the committee plans to meet again Tuesday morning to hear preliminary testimony from agency officials as conferees try to do their background work and put themselves in a position to "move fairly aggressively" when the final budget target arrives.
Overviews
While debate on significant differences is on hold, Monday's meeting was spent learning about the respective bills. Nonpartisan legislative fiscal and research staff spent most of the three-hour meeting detailing the provisions included in each version.  
The bills are somewhat close in their appropriations for the Department of Transportation ($6.73 billion in the House bill; $6.48 billion in Senate) and the Department of Public Safety ($490.49 million in the House; $486.34 in Senate) during the 2022-23 biennium.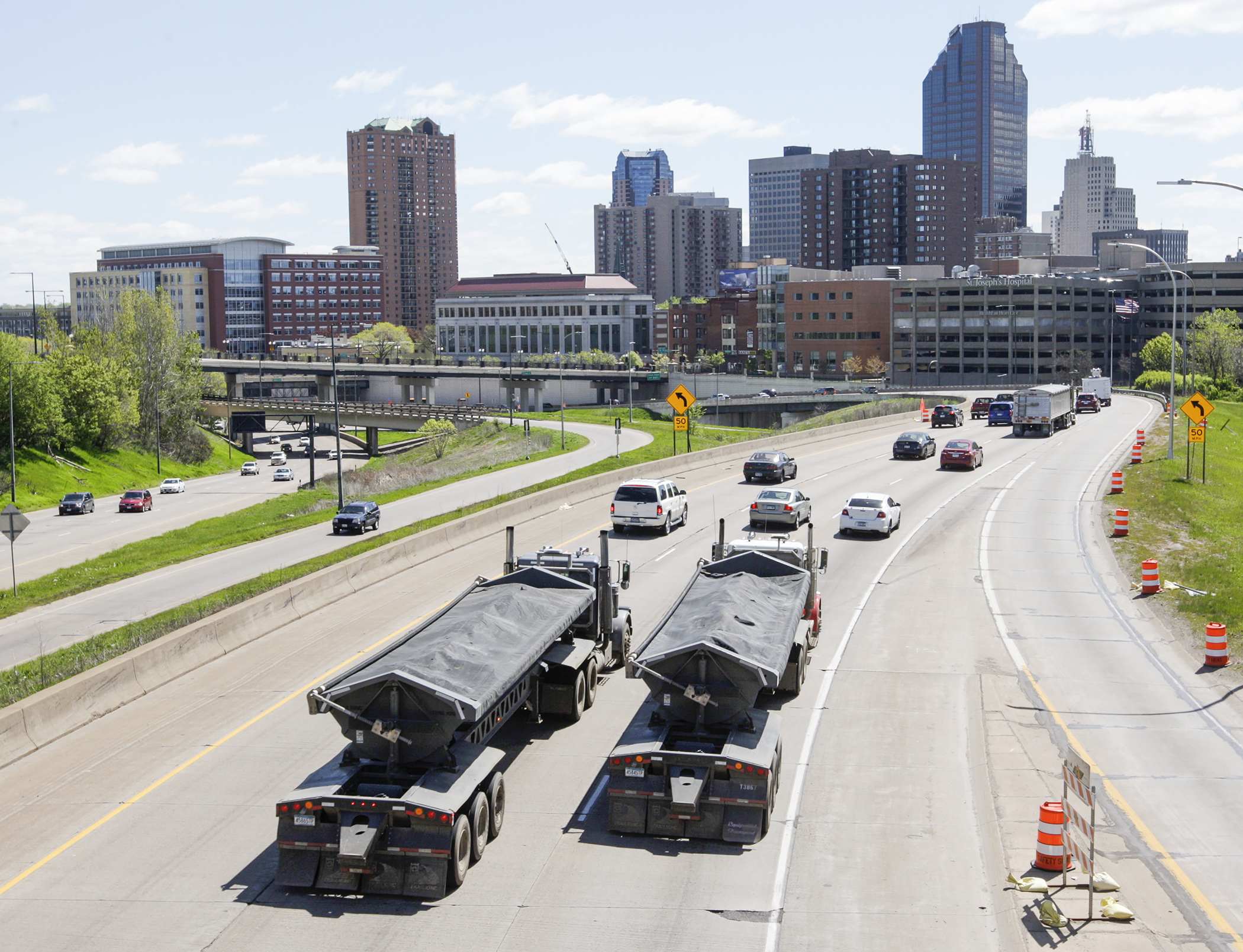 House Photography file photo
But there are major differences as well, with the House calling for $178.81 million to fund the Metropolitan Council, while the Senate bill would appropriate $20 million. 
The House would also include $400 million in trunk highway bonding for fiscal year 2024, of which $225 million would go to state road construction and $175 million to the Corridors of Commerce program. The Senate has no such provision.
The House bill would result in a $38.6 million increase in General Fund spending over the current base level; the Senate $220 million. 
The House language also contains several proposed tax increases that are not part of the Senate bill, including a penny-per-gallon gas tax increase that would come from requiring the Department of Revenue to index the motor fuels tax to inflation using the National Highway Construction Cost Index.
Another House-only provision that's proven controversial in the past would allow people without proof of legal presence in the U.S. to obtain a driver's license or Minnesota identification card.
Newman has said the Senate bill is focused on eliminating wasteful spending that doesn't benefit most Minnesotans and is instead focused on putting that money into roads and bridges.
[MORE: View the detailed spreadsheet, comparison summary]
Some of the House-only provisions include:
modifying the vehicle registration tax depreciation schedule so those who purchase more expensive, newer vehicles (2-5 years old), pay more;
directing the Metropolitan Council to increase the transit sales tax in a portion of the seven-county Twin Cities metropolitan area by 0.5%;
raising the current tax on motor vehicle sales from 6.5% to 6.875% beginning in 2022;
$6.2 million for a grant to ReConnect Rondo to develop the project that would create a land bridge over Interstate 94 in St. Paul between Lexington Avenue and Rice Street;
ending driver's license suspensions for a number of different violations, including unpaid traffic tickets, and reducing barriers to license reinstatement;
establishing a single fee for driver's licenses reinstatement, regardless of the number of violations that led to suspension;
modifying the state highway investment plan to prioritize investment in trunk highway system preservation and maintenance;
revising the share of motor vehicle sales tax revenue available, up to 2% annually, available to MnDOT for Greater Minnesota transit programs;
establishing a statewide goal to reduce vehicle miles driven by 20% by the year 2050;
directing the Metropolitan Council to deploy low-emission buses to areas with poor air quality;
requiring motorists to maintain a clearance of at least 3 feet, or half of the passing vehicle's width, whichever is greater, when passing a bicyclist; and
directing development of a pilot program to increase work zone safety using automated traffic enforcement systems.
Senate-only provisions include:
requiring MnDOT to vary the cost of MnPass fees, which would rise and fall based on congestion levels instead of time of day;
increasing license plate fees starting July 1, 2022;
requiring the Department of Public Safety to make additional payments to deputy registrars and driver's license agents based on the number of transactions they complete;
requiring a "no-show" fee of $20 for people who miss an appointment, or cancel it within 24 hours, for a driver's knowledge or road test;
instituting prohibitions on uses of highway user tax distribution funds and trunk highway funds;
requiring MnDOT to consider project readiness when selecting projects for the Corridors of Commerce program and give all criteria equal weight during consideration except regional balance;
prohibiting MnDOT from converting vehicle travel lanes into bicycle lanes or routes, and from spending highway user tax distribution funds or trunk highway funds on bicycle lanes or routes;
requiring the Metropolitan Council to establish Metro Mobility fares in accordance with federal law and use them exclusively for Metro Mobility purposes;
appropriating funds in the small cities assistance account annually to MnDOT;
increasing the speed limit on a portion of Interstate 35E in St. Paul from 45 to 55 mph;
authorizing online driver education in a number of areas as a way to complete certain licensing requirements;
allowing third-party testers to conduct driver's license road tests and establishing procedures and requirements; and
requiring officials to request federal approval to discontinue Northstar commuter rail.
The committee did adopt several same or similar provisions during Monday's meeting. Some of those include:
raising the fee for a motorcycle endorsement on a driver's license;
requiring people appointed to serve on property valuation panels in eminent domain cases be Minnesota residents;
broadening the authority MnDOT has to sell excess real estate;
establishing that appointed county highway engineers be citizens and residents of Minnesota;
modifying the due dates for registration taxes on trucks, farm trucks, RVs and trailers so they're paid in two equal parts;
broadening motor vehicle crash reports produced by law enforcement to include disclosure of local prosecutors in some circumstances; and
authorizing the Department of Public Safety to provide a variance from in-person photo requirements for homebound individuals when obtaining or renewing a Minnesota identification card.