History was made in Minnesota Thursday when, for the first time, a bill to legalize recreational marijuana reached the House floor.
And more history was made when HF600 was passed, as amended, 72-61.
But supporters shouldn't get too excited.
"There's zero chance it's going to happen in the Senate," said Senate Majority Leader Paul Gazelka (R-East Gull Lake).
Even so, the bill sponsor, House Majority Leader Ryan Winkler (DFL-Golden Valley), said he is not discouraged.
At a news conference before the floor session, Winkler said just bringing the bill to a vote may still let Republicans opposed to cannabis legalization express their support for other provisions in the bill, including creation of a regulatory oversight board and expungement of low-level criminal cannabis convictions.
[MORE: Watch the news conference]
Several Republicans said the bill was unlikely to become law, with House Minority Leader Kurt Daudt (R-Crown) calling it a "waste of time."
He and many others on that side of the aisle said with less than four days left in the legislative session the House should be focusing on passing budget bills, providing relief to businesses and employees hurt by the COVID-19 pandemic, and addressing the taxation of unemployment benefits and federal Paycheck Protection Program loans. Others also noted zero omnibus bills have been passed and no budget targets have been set by legislative leaders.
"I think that work is a lot more important than this," he said. His motion to table the bill was defeated.
The bill's next stop is the Senate where Sen. Melisa Franzen (DFL-Edina) is the sponsor.
Legalization for adults, with limits
Legal limitations would be placed on the use, possession, and transportation of cannabis and cannabis products and civil penalties for violations would be established. The bill would allow a person age 21 or older to possess:
2 ounces or less of cannabis in a public place;
10 pounds or less of cannabis in a person's residence;
8 grams or less of adult-use cannabis concentrate;
edible products infused with a total of 800 mg or less of tetrahydrocannabinol (THC); and
up to eight cannabis plants, of which four or fewer may be mature, flowering plants.
Adults who have legally purchased cannabis could give to another adult up to 1.5 ounces of it, up to eight grams of cannabis concentrate, or an edible cannabis product infused with up to 800 milligrams of THC.
Cannabis consumption would be restricted to private residences and properties, and prohibited in a motor vehicle, on a school bus or van, at a public school, charter school, or correctional facility, and at any location where smoking is prohibited under the Clean Indoor Air Act.
The bill would prohibit any product that has a likeness or similarity to products that children may like or are generally consumed by children or has odors and tastes likely to appeal to persons under age 21.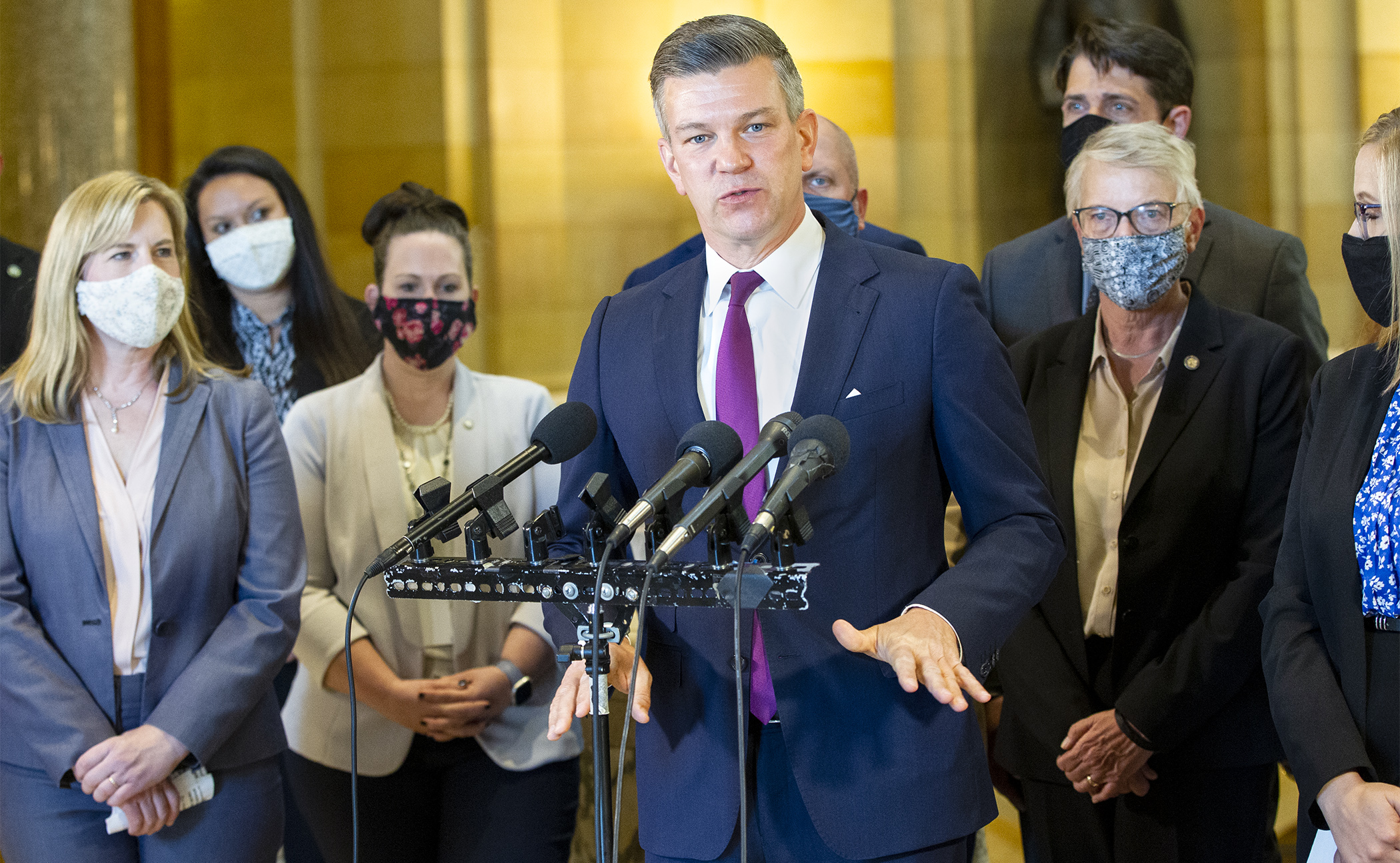 House Majority Leader Ryan Winkler speaks at a Thursday news conference before the House takes up HF600, the omnibus cannabis bill. House lawmakers passed the bill on a 72-61 vote. Photo by Paul Battaglia
A Cannabis Management Board with nine members appointed by the governor would be created to oversee and regulate the production and sale of adult-use cannabis, adult-use cannabis products, and medical cannabis.
The board would issue 10 different types of licenses for various sectors of the cannabis industry in Minnesota, including cultivator (craft and bulk), manufacturer, retailer, wholesaler, transporter, testing facility, microbusiness, event organizer, delivery service, and medical cannabis business.
It would also establish an Office of Social Equity to promote development, stability, and safety in communities that have experienced a disproportionate, negative impact from cannabis prohibition.
Local units of government could not prohibit establishment of a licensed cannabis business, but could establish reasonable restrictions on the time, place, and manner of retail cannabis operations, such as prohibiting a cannabis business "within 1,000 feet of a school, day care, nursing home, union headquarters, house of worship, or the Capitol or Capitol grounds."
Tax collection
Bill proponents tout the projected increased tax revenue from a 10% gross receipts tax on retail and on-site sales of adult-use cannabis and related products.
The tax would be in addition to state sales tax and any locally imposed sales taxes. Medical sales and farm equipment purchased for cannabis cultivation would be exempt from the 10% sales tax.
Appropriations
The bill would appropriate $72.4 million from the General Fund in the 2022-23 biennium, which the bill's fiscal note predicts would be offset by an estimated $14.2 million increase in tax revenue generated in fiscal year 2023.
The largest portion of the biennial appropriation would be $18.3 million to the Cannabis Management Board for rulemaking, for cannabis industry community renewal grants, and for administration of substance use disorder treatment and prevention grants.
[MORE: View the spreadsheet]
Other major appropriations for 2022-23 biennium would include:
$17.1 million to the Department of Employment and Economic Development for grants to cannabis start-ups and other cannabis retail and wholesale businesses;
$12.5 million to the Department of Health for educating women who are pregnant, breastfeeding, or may become pregnant, collecting data, testing, and youth awareness campaigns;
$5.5 million to the Bureau of Criminal Apprehension to identify records of individuals who may be eligible for expungement or resentencing, enhance forensic science services, and investigate diversion crimes;
$2.6 million to the Department of Agriculture for food safety and pesticide enforcement lab testing and cannabis-related rulemaking; and
$1.1 million to the Minnesota Supreme Court for reviewing records and issuing orders related to expungement and resentencing of certain cannabis-related crimes.
Racial equity issues
Winkler urged members to view the bill through the lens of racial equity, that legalizing cannabis would help reduce economic disparities and take steps to eliminate the disproportionate toll marijuana prohibition has taken on communities of color.
Black people, Winkler said, are more than eight times more likely than white people to be arrested for possession and sale of marijuana in Minnesota, despite comparable usage rates.
"Cannabis prohibition in Minnesota has been a failure. The criminal penalties associated with cannabis prohibition have been unfairly applied to communities of color, and especially Black Minnesotans," he said.
Rep. Jay Xiong (DFL-St. Paul) said drug prohibition has a long history of being race-based fear-mongering, with laws enacted based on the false narrative that marijuana causes "Blacks to forget their place in society.
"So often and for so long, our war on drugs have been wars on poverty, class and race," he said. "It is never too late to right a wrong."
Winkler touted other benefits of legalization, including establishing a responsibly regulated and safe cannabis market, and improving access and affordability to the state's medical marijuana program by including flower and dried leaves in the definition of medical cannabis, which he said would lower costs for patients.
Amendments
When it came time to take up the nearly two-dozen amendments offered, most from Republicans, Winkler said something not often heard on the House floor, which was that he would welcome adoption of most of them.
"We think that further conversations on some of these issues will be required, but I will tell you that I think your improvements to the bill are something I am committed to," he said.
Concerned about the dangers of driving under the influence of cannabis and the tools law enforcement should have to detect it, Rep. Tony Jurgens (R-Cottage Grove) successfully offered an amendment that would authorize the Department of Public Safety "to design, plan, and implement a pilot project intended to determine the efficacy of oral fluid roadside testing to determine the presence of a controlled substance or intoxicating substance by trained law enforcement personnel."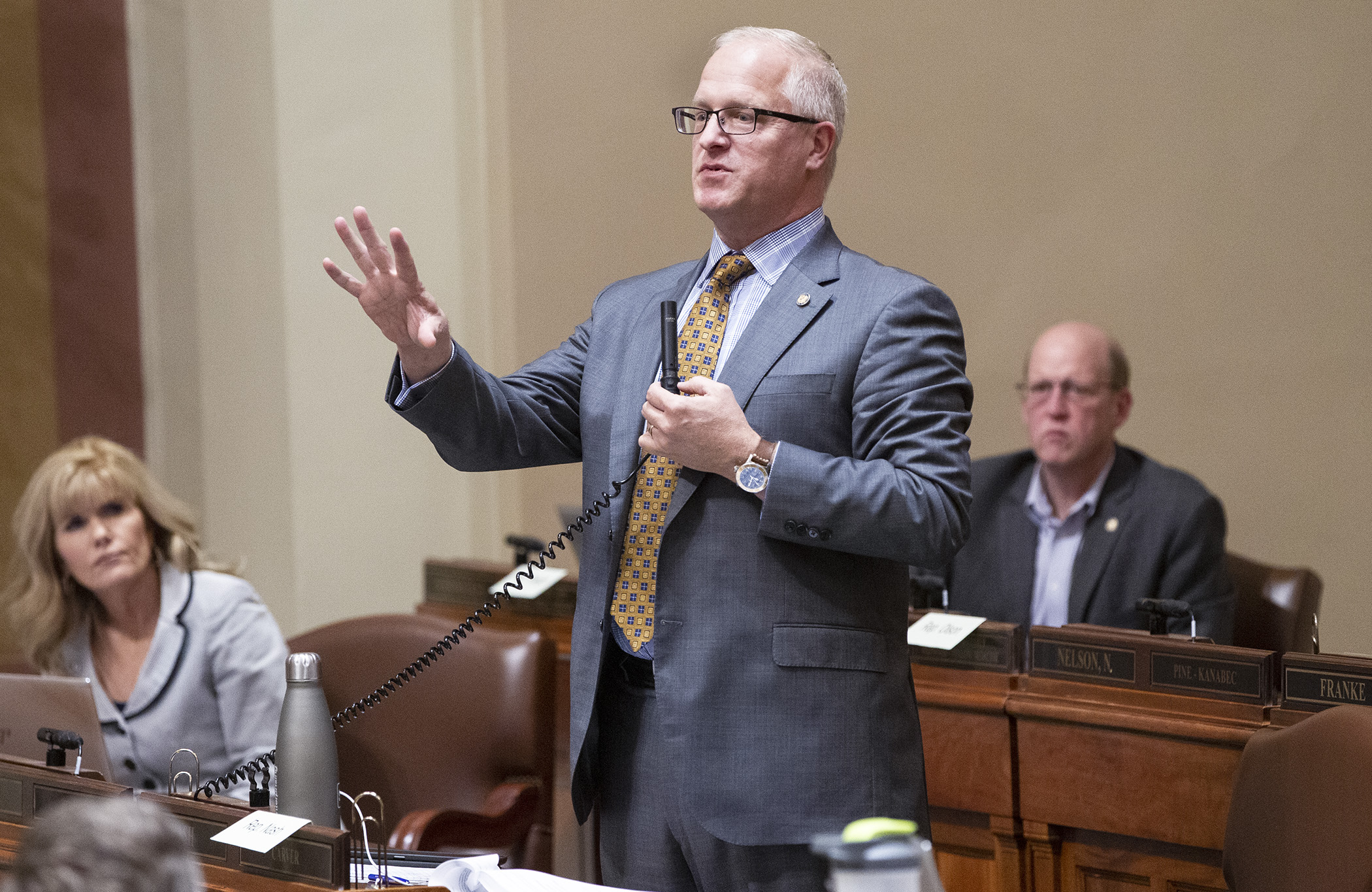 Rep. Jim Nash speaks against HF600, the omnibus cannabis bill, during House floor debate May 13. The bill passed on a 72-61 vote. Photo by Paul Battaglia
Rep. Jeremy Munson (R-Lake Crystal) is concerned that because cannabis remains a prohibited drug under federal law, Minnesotans using legal cannabis would need protection from possible federal prosecution.
He successfully offered an amendment that would prevent a cannabis business from sharing data on retail or wholesale customers with any federal agency, federal department, or federal entity unless specifically ordered to do so by a state or federal court.
Munson also successfully offered an amendment that would not disqualify a medical-use cannabis patient in the registry program or use of adult-use cannabis or adult-use cannabis products by a person 21 years of age or older from possessing firearms and ammunition.
Rep. Susan Akland (R-St. Peter) successfully offered an amendment that would require the following label on cannabis products: "WARNING: Use of this product may be hazardous to your health and may impair judgment. Do not operate a motor vehicle or heavy machinery while under the influence of cannabis or a cannabis product."
Unsuccessful Republican amendments included one offered by Rep. Peggy Scott (R-Andover) that would have raised the legal age of cannabis use under the proposed legislation from age 21 to 25.
An amendment offered by Rep. Nolan West (R-Blaine) would have allowed an employer to enact a policy requesting or requiring cannabis testing of job applicants, and making it legal to withdraw a job offer for a positive test. It was withdrawn after being successfully amended by Winkler to limit such testing to "a safety-sensitive position."
Questioning priorities, long-term effects
Scott said she opposed the legislation because cannabis can be addictive, lead to stronger illicit drugs, and would harm the brain development of youth.
Rep. Glenn Gruenhagen (R-Glencoe) and Rep. Dave Baker (R-Willmar) echoed those points.
Baker, who lost his son to an opioid overdose, said cannabis use often does lead to stronger, more deadly illicit drug use.
"It starts with marijuana and it goes on to other things," he said. "This is not a joke, this is serious."
Some Republicans spoke in favor of the bill.
West said he believes the bill would make Minnesotans safer by eliminating the black market for cannabis.
"History has taught us that prohibition makes things more dangerous," he said, "gets people killed and just straight-up doesn't work."