Representatives and senators are tasked with passing a state budget for areas of state government activity from agriculture to zoos. Then the governor has to give his approval.
A bill to fund all those elected folks — and other state operations — is ready for action.
An agreement on the omnibus state government finance and elections bill was shared Thursday morning with the House State Government Finance and Elections Committee. No action was taken at the informational hearing.
Rep. Michael Nelson (DFL-Brooklyn Park), who sponsors SSHF12, with a yet-to-officially-be-offered delete-all amendment, with Sen. Mary Kiffmeyer (R-Big Lake), does not know when it will be heard by the House Ways and Means Committee or acted upon by the full House. The Senate Finance Committee was to review the bill Thursday afternoon.
In addition to appropriations for various agencies, boards and commissions, the bill contains a handful of elections provisions, including a process for absentee ballot drop boxes and policy issues related to veterans.  
The bill calls for $1.25 billion in General Fund spending in the 2022-23 biennium, a $78.5 million increase over the current biennium.
A nearly $30.9 million increase is slotted for the Department of Veterans Affairs, including $8.69 million to operate three new veterans homes in Bemidji, Montevideo and Preston. Another $4.5 million would be a state match to construct a veteran's cemetery in Redwood Falls.
The department would also receive an $8.22 million operating adjustment, $6.33 million would be for an initiative to end veteran homelessness and $1.65 million would aim "to address the problem of death by suicide among veterans in Minnesota."
The Office of the Attorney General is to receive $7.86 million for than the current biennium. Nearly $5 million of that is for investments in critical litigation technology resources necessary in modern litigation for a public law office. Other increases include $1.03 million for security upgrades, $700,000 for wage theft enforcement, $600,000 to help maintain experienced staff and $578,000 for enhanced antitrust resources.
According to the office's budget request, "Public law offices cannot compete with the salaries paid lawyers in private law offices of similar size, but the Attorney General's Office and other public law offices must be able to pay salaries that will enable them to recruit and retain high-quality attorneys capable of defending the interests of the state, its agencies and people in court."
Other changes include an $11.03 million increase for the Department of Revenue, mainly for an operating adjustment; $4.52 million for Minnesota Management and Budget; $4.37 million for MN.IT, mostly to implement recommendations from the Governor's Blue Ribbon Council on Information Technology; $4.25 million for the Office of the Secretary of State, with $2 million for local grants for ballot drop boxes and $1.5 million for election equipment grants; $2.8 million for the state auditor's office, including almost $1.49 million to create a School Finance Accountability team; and $2.39 million more for the Administration Department. Many small agencies would receive slight operating adjustments.
Included in the funding is a $3.67 million operating adjustment for the Senate, $2.65 million for the House, $1.08 million for the Legislative Coordinating Commission and $579,000 for the Legislative Budget Office. Legislators are due to a $1,750 annual salary bump approved in March by the Legislative Salary Council.
The Market Bucks program, which matches Supplemental Nutrition Assistance Program spending dollar-for-dollar (up to $10) at participating farmers markets, would again be funded at $650,000 for the biennium. Funding for the program that helps low-income residents to make more purchases at farmers' markets was formerly funded in the agriculture bill.
[MORE: View the spreadsheet]
Elections
The bill would formalize a process for a municipality or county to use absentee ballot drop boxes.
The agreement includes language about locations, security, signage and monitoring of such boxes, along with when a list of locations must be published on specific websites. For example, a box would need to be affixed to a building or bolted to a concrete pad, be recorded at all times, ballots would need to be secured against unauthorized access or weather damage and the drop box must be emptied daily.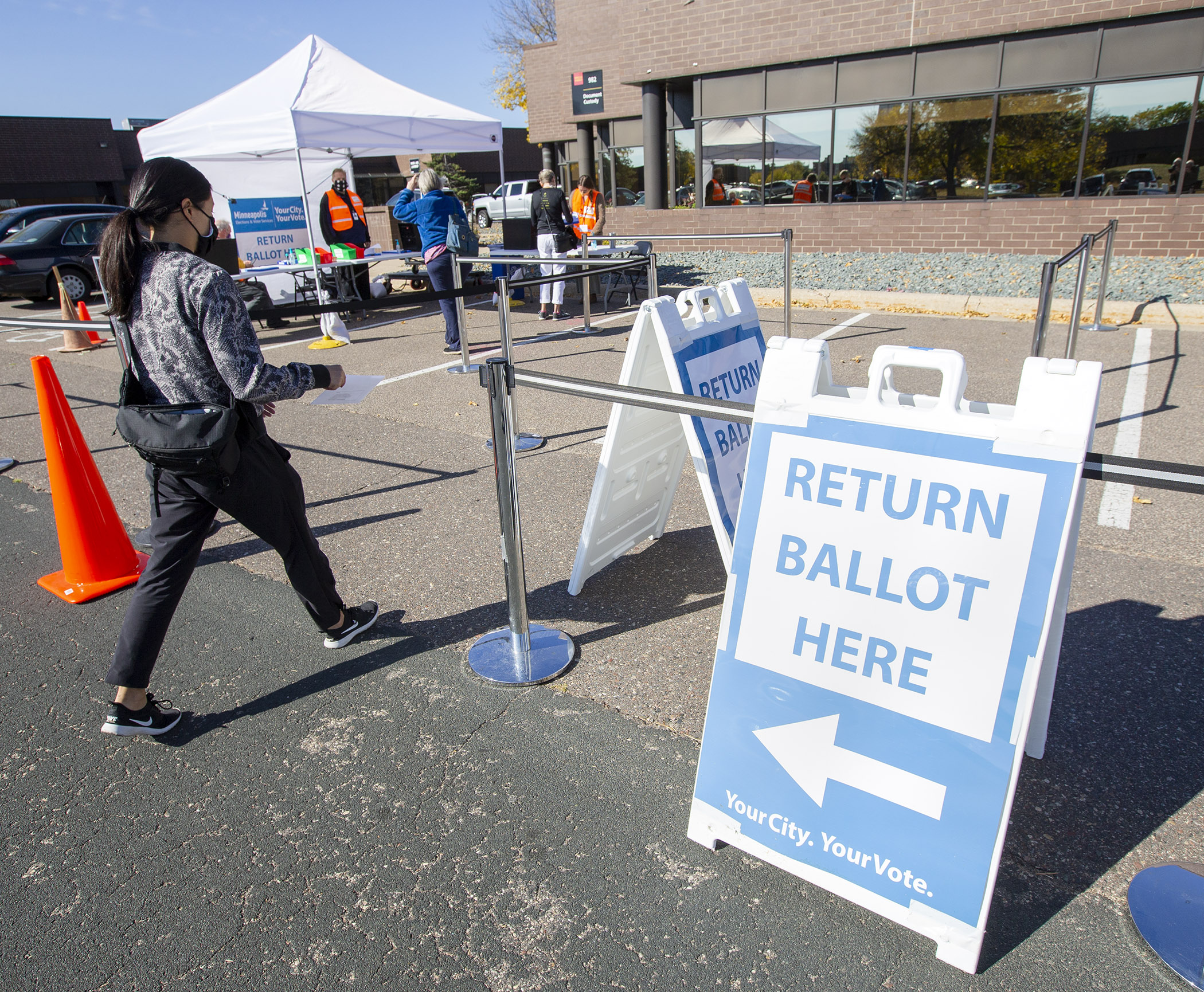 A voter returns her ballot to the Minneapolis Early Voting Center Oct. 8. Photo by Paul Battaglia
Rep. Jim Nash (R-Waconia) would like more specifics in the bill, such as the definition of recording, data retention policy and video sharing among different counties if, for example, a scoundrel creates problems in multiple jurisdictions. He said he may bring forth an amendment addressing these concerns.
Secretary of State Steve Simon plans to convene a working group in the interim to fully vet issues associated with absentee drop boxes and provide language that can be passed next year and implemented in time for the 2022 election.
"This language … was really necessary because as we learned this last election with the popularity of absentee voting and, therefore, the popularity of drop boxes in Minnesota, there was next to nothing in statute providing guardrails or guidelines," Simon said. "Minnesota statute, as we sit here today, in essence says drop boxes may exist. And that's it."  
Concern was raised because the provision was in neither the House nor Senate omnibus bills in the regular session, but Nelson said the Senate would not negotiate the agreement without this being included.
"I'm really disappointed that something is getting in that was not in either bill," said Rep. Sandra Masin (DFL-Eagan), who called it "a real abuse of power."
Nash noted that is happening on both sides of the aisle. "The outrage should be directed at both parties. This is happening with the DFL and the GOP."
Establishment of standards for a manual recount of votes on a proposed constitutional amendment are included in the bill. A recount would be required if the number of affirmative votes is within 0.25% of the number of all other ballots cast.
Veterans and Military Affairs
An alternative-sentencing option for veterans with service-connected trauma, substance abuse or mental health conditions who commit certain crimes would be created.
The bill would also:
let the Department of Veterans Affairs hire a publicity representative, a position that exists in some other state agencies;
rename the first Saturday in October from Veterans Suicide Awareness Day to Veterans Suicide Prevention and Awareness Day to raise awareness, and promote prevention of suicides by veterans; and
allow the Veterans Affairs Department to directly provide dental services for veteran's homes residents and provide adult day care center programs that offer therapeutic and rehabilitation health care services to veterans and support services for caregivers of veterans.
Other policy provisions include:
the legislative auditor's office is requested to conduct a review of the state's response to COVID-19;
Minnesota Management and Budget shall procure a contract for the services of a pharmacy benefit manager to administer the prescription drug benefit and pharmacy benefit management services, effective Jan. 1, 2023;
MMB could establish a virtual payments program to allow state payments to vendors through an electronic credit rather than a check;
MMB would need to contract with a qualified auditor to conduct an annual audit of the state's use of federal grant funds, something managed by the Office of the Legislative Auditor since 1983;
creation of a Legislative Commission on Cybersecurity;
someone using a charging station in the State Capitol Complex to charge a private electric vehicle would pay an electric service fee;
recognizing Daylight Saving Time as the standard of time all year, provided federal legislation permits this change;
eliminating a requirement that the manager of a salon school be a cosmetologist; and
designating Aug. 15 as India Day "to commemorate and celebrate the diverse culture, heritage, traditions, and contributions of Minnesotans of Indian ancestry."