How to meet the housing needs across the state with limited resources is not a question that can be easily answered.
A bill passed Thursday by the House tries to help.
The $125.6 million omnibus housing finance and policy bill contains just $10 million in new General Fund spending, but it also contains provisions that address short- and long-term needs.
Sponsored by Rep. Alice Hausman (DFL-St. Paul), SSHF4 was passed 72-59. It now goes to the Senate where Sen. Rich Draheim (R-Mountain Lake) is the sponsor.
From a monetary standpoint, the agreement calls for the issuance of $100 million in housing infrastructure bonds to boost efforts across a range of housing and strengthen local efforts to address housing needs.
"A portion of those resources will be directed to single-family homes and manufactured home park acquisition and improvement," said Rep. Michael Howard (DFL-Richfield). He's vice-chair of the House Housing Finance and Policy Committee.
New General Fund spending includes $3.25 million for workforce homeownership program, $2.8 million for the housing challenge program, $1.75 million for manufactured home park infrastructure grants, $1 million into the home ownership assistance fund and $1 million to establish a local housing trust fund.
[MORE: View the spreadsheet]
Republicans say the bill does nothing to encourage private investment in affordable housing or reduce burdensome regulations that could help reduce housing costs.
"Home ownership is the key to building wealth. Imagine if we could have people building homes in Minnesota that the average person could afford and start building that family wealth," said Rep. Matt Bliss (R-Pennington).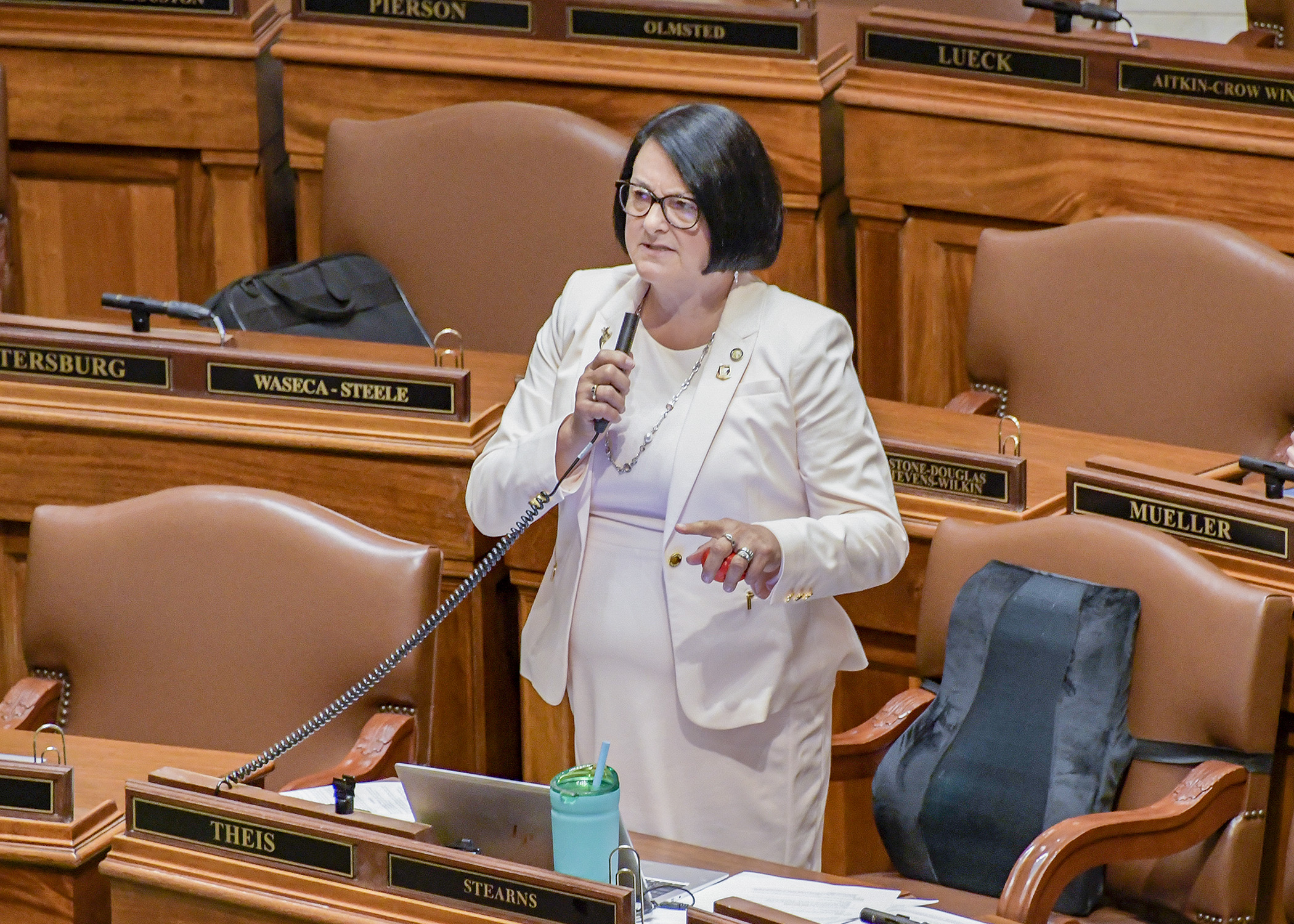 Rep. Tama Theis offers an amendment to the omnibus housing finance and policy bill Thursday on the House Floor. Photo by Andrew VonBank
This bill would end the governor's executive orders that prevent evictions and lease terminations during the COVID-19 Peacetime Emergency and provide an off-ramp to provide protections to tenants and landlords.
"Gov. Walz's eviction moratorium was to help Minnesotans stay home and stay safe, and it has saved lives," Howard said. "… But now as we come out of this pandemic I would argue we have a responsibility to make sure we don't replace our health crisis with an eviction crisis.
"We have the responsibility to ensure that both renters and landlords who have lost income due to no fault of their own have an opportunity to catch up and get well."
Among the details, a landlord could not terminate or fail to renew a lease within 105 days of enactment, except in cases where the tenant is endangering others, engaging in certain criminal activities, materially violating the lease or when the tenant requests the termination of the lease. Further, a landlord could not file an eviction within 105 days unless the tenant is a danger to others, there is significant property damage or they engage in criminal activity. Evictions would be allowed 15 days after enactment for situations where a tenant materially violates the lease.
A landlord would be required to provide a notice to a tenant 15 days before filing an eviction if the eviction is for nonpayment of rent during the 105 days following enactment of a law. Rep. Peggy Scott (R-Andover) unsuccessfully offered an amendment to delete this.
Tenants with an outstanding rental assistance claim won't be able to be evicted until June 1, 2022 just for being behind in rent. An amendment make the deadline Jan. 1, 2022 was defeated.
"The tenet of this off-ramp is to drive Minnesotans to RentHelpMN.org or call 211 to apply for over $500 million in rental assistance that was passed by Congress," Howard said. "It will help Minnesotans who have fallen behind on their rent catch up and will help landlords be made whole."
Rep. Tama Theis (R-St. Cloud) unsuccessfully made a motion to refer the bill back to the House Housing Finance and Policy Committee. She also unsuccessfully offered an amendment with a different phase out plan.
"The eviction moratorium off-ramp needs additional work. A lot of us don't agree with the 15-day extension on it. A lot of our housing providers are already facing a lot of hardship and we need to make sure that we do something to take care of them," she said.
Other unsuccessfully proposed Republican amendments included those that would prohibit a municipality, as part of a building permit, from requiring specific materials, design, amenities or other aesthetic conditions not required by the state building code; cap administrative costs at the Minnesota Housing Finance Agency; and require the tenant to provide written notice to a landlord that person has filed for rental assistance.