It's now up to Gov. Tim Walz if state parks will remain open July 1.
The omnibus environment and natural resources policy and finance bill was passed 99-34 Friday by the House and sent to the state's top elected official. It was passed 49-14 by the Senate Tuesday.
"We are a few days from the end of the fiscal year; we are a few days away when the outdoors that Minnesotans enjoy could be put at risk by closure of state parks," Rep. Rick Hansen (DFL-South St. Paul) said of the timing of an agreement reached with the Senate after "weeks of very, very, very difficult negotiations." 
Hansen, who sponsors SSHF5/SSSF20* with Sen. Bill Ingebrigtsen (R-Alexandria), said the agreement makes advances in battling emerald ash borer, chronic wasting disease and aquatic invasive species.
"Passing this bill means that state parks can remain open and that support needed to maintain access to the great outdoors is fully funded. Nevertheless, I remain disappointed that Democrats continue to force California's emissions standards on Minnesotans," Rep. Josh Heintzeman (R-Nisswa) said in a statement.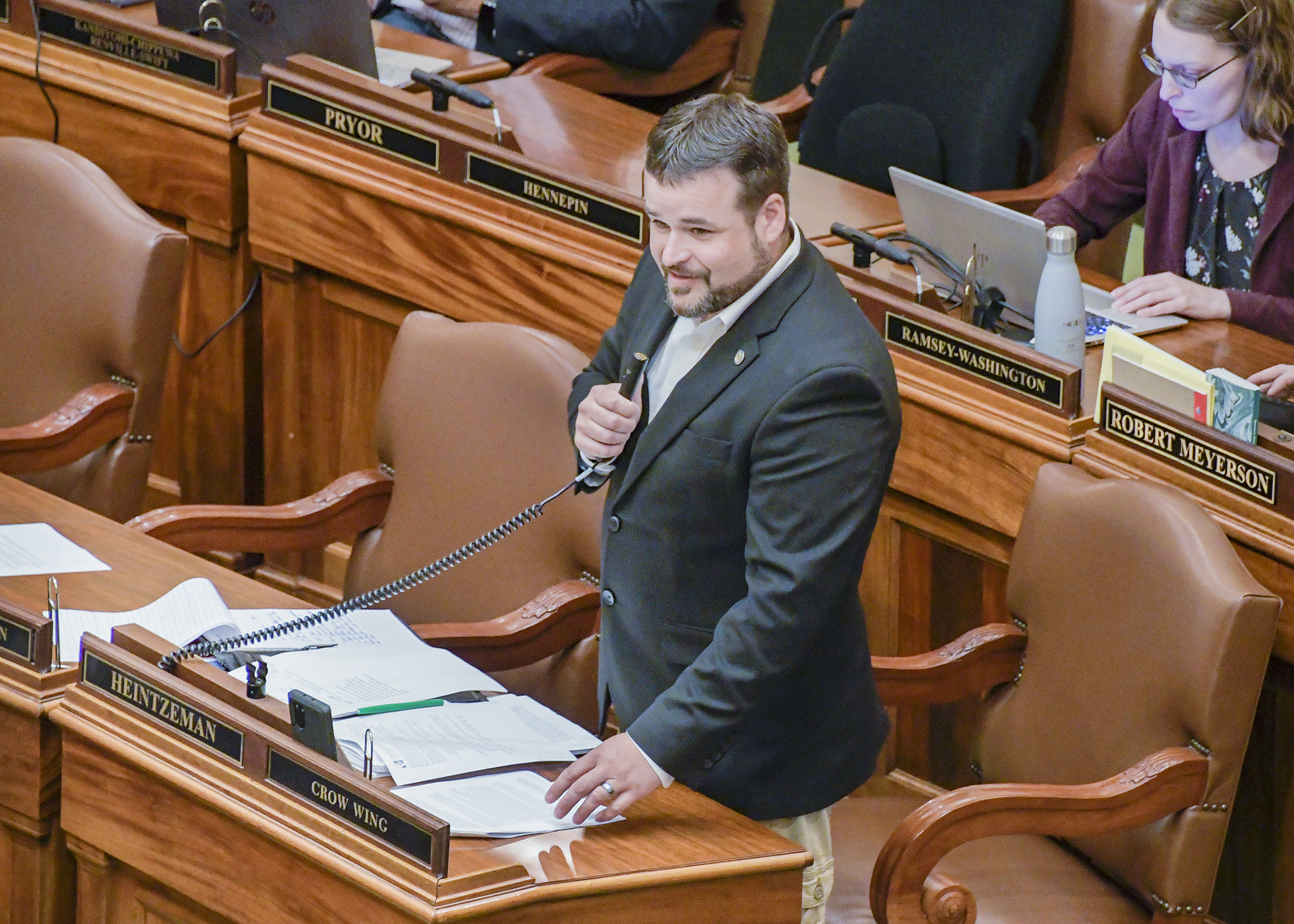 Rep. Josh Heintzeman unsuccessfully offers an amendment to the omnibus environment and natural resources policy and finance bill Friday. Photo by Andrew VonBank
Senate Republicans had threatened to withhold support if the governor's call for Minnesota to adopt stricter air and emissions standards was not dropped.
"There is no delay in the clean car standards," Hansen said. "In exchange for that, there are no fees for watercraft surcharge, for aquatic invasive species or for conservation districts."
No increases in state park fees or hunting and fishing fees are in the bill.
The agreement funds, in part, the Department of Natural Resources, Pollution Control Agency, Board of Water and Soil Resources, Explore Minnesota Tourism, Conservation Corps, Minnesota Zoo and the Science Museum of Minnesota.
Bill spending totals $1.66 billion, of which $367.08 million would be General Fund spending, $35.09 million over base.
[MORE: View the spreadsheet]
The bill would provide a $70.88 million appropriation in fiscal year 2022 and nearly $61.39 million in fiscal year 2021 from the environment and natural resources trust fund, a constitutionally dedicated fund funded by state lottery proceeds. The dollars would be for 165 projects across the state aimed at protection, conservation, preservation and enhancement.
Among new spending in the bill is:
$7.73 million for conservation officer and supervisor salary increases and retroactive raises;
$7 million to respond to chronic wasting disease;
$2.5 million for accelerated tree planting;
$2.4 million for emerald ash borer response grants to local communities;
$1.4 million for septic replacement grants;
$1 million to the University of Minnesota for aquatic invasive species research;
$1 million for community event grants; and
$800,000 for aquatic invasive species prevention grants.
Among policy provisions, the bill would:
prohibit, effective Jan. 1, 2024, the manufacture and sale of a food package containing a group of "forever" chemicals called perfluoroalkyl substances, or PFAS;
to help with chronic wasting disease, give the DNR and Board of Animal Health "concurrent authority to regulate farmed white-tailed deer," and the DNR "may inspect white-tailed deer";
require the DNR to annually establish daily and possession limits for gar;
prohibit a person from shooting a firearm or arrow from a motor vehicle at a decoy of a wild animal placed by a licensed peace officer;
prohibit a person in the possession of night vision or thermal imaging equipment convicted of certain violations from obtaining a hunting license or hunting wild animals for five years; and
allow the use of crossbows when hunting deer, bear or turkey during all firearm seasons except the muzzleloader season.
"It doesn't have everything we want, but it's a good bill," said Rep. Jamie Becker-Finn (DFL-Roseville).
Heintzeman unsuccessfully made a motion to return the bill to the House Environment and Natural Resources Finance and Policy Committee, citing a lack of input from House Republicans and wanting to hear more about provisions added during negotiations that were not heard in the House.
A pair of Republican amendments were not adopted: one to withhold funding unless the clean car rules are withdrawn and further pursuit of their adoption does not occur, and another to require a level of full-time equivalent conservation officers equal to or greater than the number in fiscal year 2021.