— UPDATED at 1:57 a.m. June 30 after Senate vote
The House passed potentially the most controversial bill of the special session Tuesday night.
A few hours later the Senate did the same.
"This is a mighty bill," said Rep. Carlos Mariani (DFL-St. Paul), who sponsors the omnibus judiciary and public safety finance and policy bill that some members say does not go far enough when it comes to police reform.
Conversely, Rep. Brian Johnson (R-Cambridge) said the bill focuses on the "demonizing of law enforcement."
Prior to the 75-59 passage, several amendments were adopted to the $2.64 billion bill, including one to add a police reform measure, which modifies language previously agreed to by legislative leaders and Gov. Tim Walz.
The Senate, which discussed then tabled, its version, SSSF7, earlier in the day, passed the House bill 45-21 early Wednesday and sent it to the governor. Sen. Warren Limmer (R-Maple Grove) is the Senate sponsor.
Floor debate
But while Mariani called the police reform measures in the bill "meaningful," he also said it fails to fully rise to the occasion of this important time in history when citizens are demanding more police accountability.
"It lacks, in my opinion, the necessary weight of accountability to respond to the persistent use of deadly force by licensed police officers that has produced a steady stream of killings of Black and brown people in Minnesota," he said.
Still he urged support because it represents movement in the right direction, and that he would never give up working for more police reform.
But for Rep. John Thompson (DFL-St. Paul) the lack of stronger police reform measures in the bill were personal.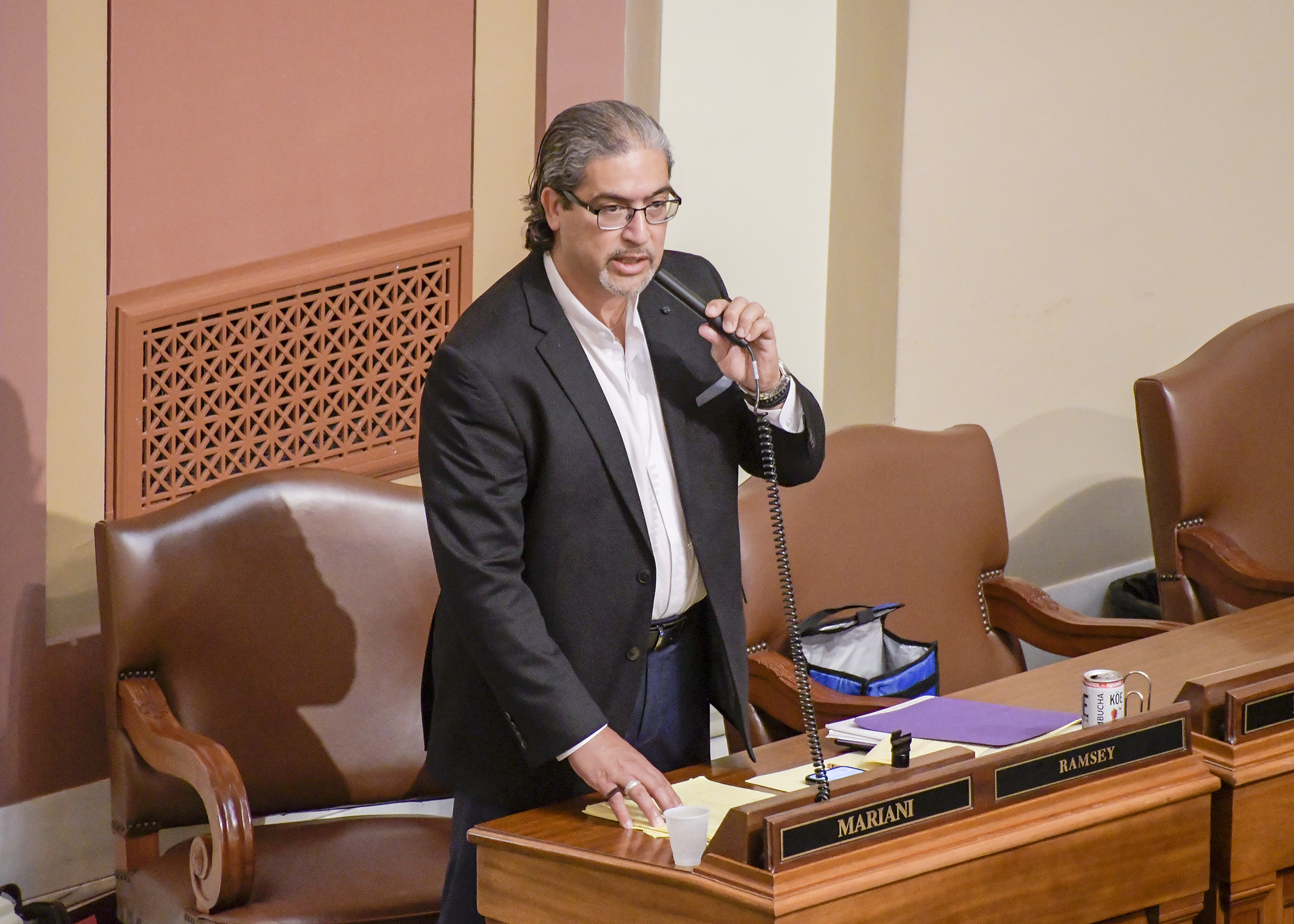 Rep. Carlos Mariani, chair of the House Public Safety and Criminal Justice Reform Finance and Policy Committee, presents the omnibus public safety and judiciary finance and policy bill on the House Floor Tuesday. Photo by Andrew VonBank
"Every time you hear me standing up against police violence it's because I want to protect my 13-year-old son from becoming the next victim," he said. "…This is not a Black against white thing, it's not a Black folks against blue. This is right against wrong. It's wrong to keep siccing the police on our community and not be willing to take a look into the things that are going wrong in the policing in this state. …I am just sick and tired of being sick and tired because we are going to lose another young man this year because of the inability to act on police reform."
Republicans are split on the bill.
Rep. Marion O'Neill (R-Maple Lake) touted how the bill would change criminal sexual assault statutes to permit prosecution of cases where victims were intoxicated through voluntary consumption, change rules for participating in the ignition interlock program, and provide alternatives to incarceration for offenders with chemical dependency issues.
"We are here to protect victims from violence, we're here to help the criminals find a different path and a different way and find hope and healing and stop the criminal behavior," she said. "That's public safety."
Amendments
Prompted by deadly interactions with police after traffic stops, such as the one that led to the death of Daunte Wright in April, Rep. Jamie Long (DFL-Mpls), successfully offered an amendment that would require "sign and release" warrants for certain infractions, such as missing a court appearance.
Under the plan, a police officer, when discovering a person has missed a scheduled court date, would ask the person to sign a citation describing the need to appear in court and then let the person go.
Rep. Donald Raleigh (R-Circle Pines) successfully offered an amendment that would make it a misdemeanor for a person to reveal personal information about a police officer if it poses an imminent and serious threat to the officer's safety or a gross misdemeanor if the officer "suffers great bodily harm or death as a result of the violation."
Other Republican-sponsored amendments were not adopted, including those that would have required a report to the Legislature on how often judges don't impose minimum mandatory sentences, would have appropriated money to the Hennepin County Sheriff's Office to combat violent crime, and would have restricted where Level III sex offenders can live upon release.
Mariani also successfully offered a mostly technical amendment to his bill, which he further amended, and Rep. Jamie Becker-Finn (DFL-Roseville) also successfully offered another technical amendment.
What's in the bill
The $2.64 billion in General Fund spending would set a budget for the Department of Public Safety, Department of Corrections, Minnesota courts, civil legal services, Guardian ad Litem Board, Tax Court, Uniform Laws Commission, Board on Judicial Standards, Board of Public Defense and Human Rights Department.
Included in the bill is a 2.5% raise for judges and court employees and $500,000 for grants to improve courthouse security.
Other salary increases and salary supplements specified in the bill include $5 million for Bureau of Criminal Apprehension employees and $601,000 for Department of Corrections' employees.
[MORE: View the spreadsheet]
Among policy changes the bill would:
regulate the use of no-knock warrants;
require 911 operators to refer calls to mental health crisis teams in certain situations;
reform civil asset forfeiture laws;
prohibit the use of restraints on children appearing in court;
reform jail safety rules – the Hardel Sherrell Act;
establish a child torture crime with a maximum penalty of 25 years in prison and a $35,000 fine;
change criminal sexual assault statutes to permit prosecution of cases where victims were intoxicated through voluntary consumption;
establish new policies addressing the use of confidential informants – Matthew's Law;
modify rules for participating in the ignition interlock program;
create a "Hometown Heroes" assistance program for Minnesota firefighters;
require the Bureau of Criminal Apprehension to investigate criminal sexual conduct cases in the Minnesota National Guard;
require police chiefs to report to the Peace Officers Standards and Training Board all disciplinary actions taken against police officers for the purpose of identifying patterns of behavior suggesting an officer is in crisis or may violate a board-mandated model policy;
establish a crime for assaulting a peace officer or other criminal justice partner and inflicting great bodily harm;
establish the Office of Missing and Murdered Indigenous Relatives; and
create a Task Force on Missing and Murdered African American Women "to advise the commissioner of public safety and report to the legislature on recommendations to reduce and end violence against African American women and girls in Minnesota."
[MORE: View a summary from the nonpartisan House Research Department]
The bill does not have a House provision requiring police to release body camera footage within 48 hours to family members of a person killed by police. However, Walz issued an executive order Monday directing law enforcement agencies to develop policies to release footage to families within five days.
In that same executive order, Walz ordered $15 million in COVID-19 relief money to be spent on community violence prevention efforts.