— UPDATED at 5:30 p.m. Aug. 30
Fairgoers are invited to weigh in on hot political topics and meet with legislators during their visit to the House of Representatives' booth at the 2021 Minnesota State Fair.
Among the booth highlights is the annual informal, unscientific House opinion poll that draws the attention of around 10,000 participants. Fairgoers can let their opinions be known this year on a number of issues, including masks in schools, traffic stops by law enforcement, sports gambling and emergency powers. Results are scheduled to be on the House website (www.house.mn) Sept. 7, the day after the fair closes.
Also back is a photo opportunity as you stand behind a replica of the House Speaker's desk. Complete with flags and the Abraham Lincoln portrait, the display gives you a feel for what it is like to stand in this position of power. Be sure to find out why Lincoln's photo hangs in the House Chamber.
The House of Representatives exhibit is located in the Education Building on Cosgrove Street, just north of Dan Patch Avenue.
The following is a list of representatives planning to attend (as of 9 a.m., Aug. 30).
Thursday, Aug. 26
10 a.m. to noon: Rep. Rick Hansen (DFL-South St. Paul)
Noon to 2 p.m.: Rep. Rick Hansen (DFL-South St. Paul), Rep. Josh Heintzeman (R-Nisswa)
Friday, Aug. 27
10 a.m. to noon: Rep. Rick Hansen (DFL-South St. Paul), Rep. Jennifer Schultz (DFL-Duluth)
Noon to 2 p.m.: Rep. Rick Hansen (DFL-South St. Paul), Rep. Mike Sundin (DFL-Esko)
4 p.m. to 6 p.m.: Rep. Kristin Bahner (DFL-Maple Grove)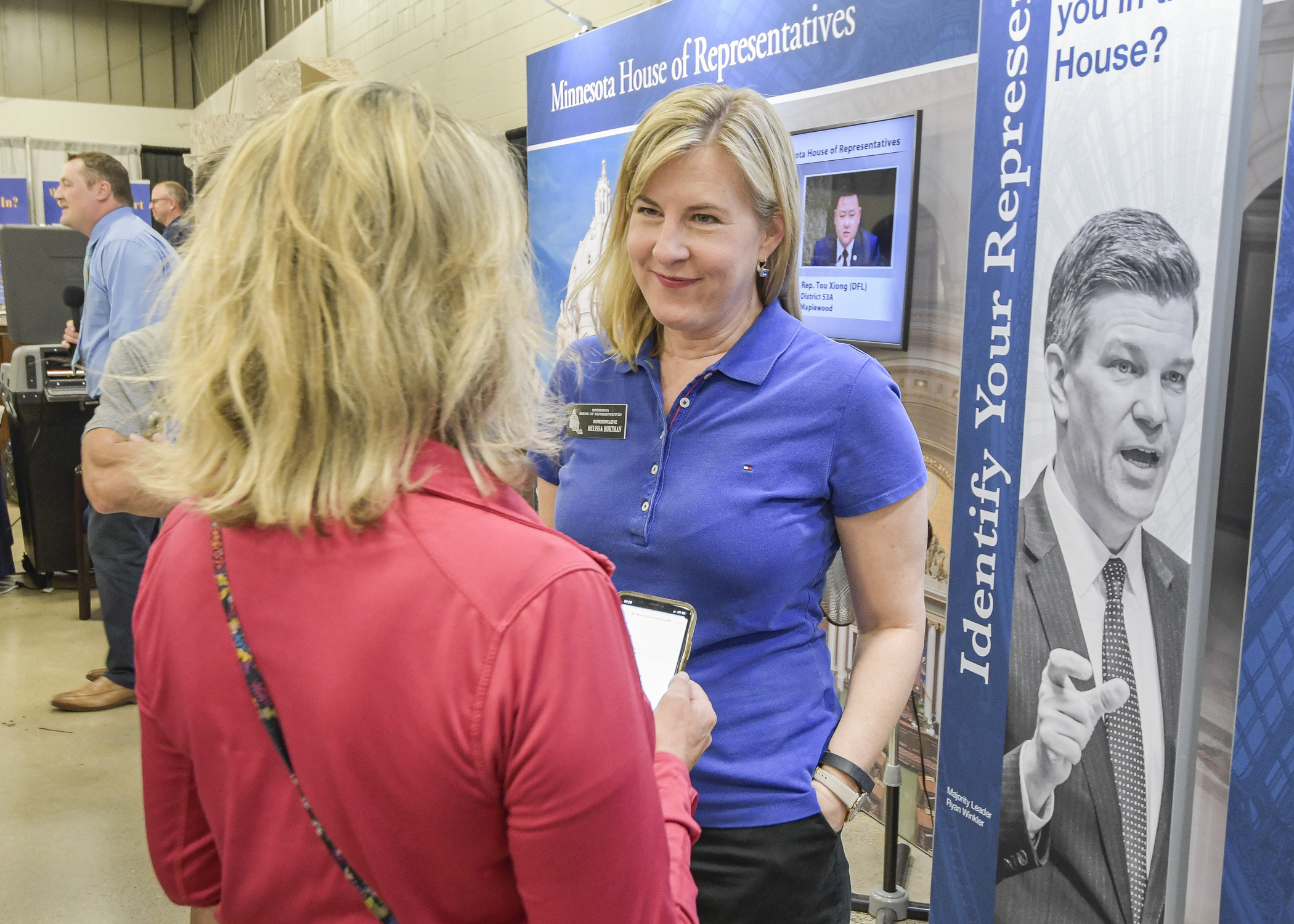 House Speaker Melissa Hortman speaks with a fairgoer during the 2019 Great Minnesota Get-Together. House Photography file photo
Saturday, Aug. 28
10 a.m. to noon: Rep. Kristin Bahner (DFL-Maple Grove), Rep. Tony Jurgens (R-Cottage Grove)
Sunday, Aug. 29
Noon to 2 p.m.: Rep. Kristin Bahner (DFL-Maple Grove)
Monday, Aug. 30
10 a.m. to noon: Rep. Kristin Robbins (R-Maple Grove)
2 p.m. to 4 p.m.: Rep. John Thompson (DFL-St. Paul)
Tuesday, Aug. 31
10 a.m. to noon: Rep. Jim Davnie (DFL-Mpls)
Wednesday, Sept. 1
10 a.m. to noon: Rep. Tony Jurgens (R-Cottage Grove)
Noon to 2 p.m.: Rep. Paul Torkelson (R-Hanska)
Thursday, Sept. 2
Noon to 2 p.m.: Rep. Pat Garofalo (R-Farmington)
Friday, Sept. 3
10 a.m. to noon: Rep. Sandra Feist (DFL-New Brighton), Rep. Duane Quam (R-Byron)
Saturday, Sept. 4
10 a.m. to noon: Rep. Greg Boe (R-Chanhassen), Rep. Duane Quam (R-Byron)
Noon to 2 p.m.: Rep. Greg Boe (R-Chanhassen)
Sunday, Sept. 5
10 a.m. to noon: Rep. Steve Elkins (DFL-Bloomington)
Monday, Sept. 6
10 a.m. to noon: Rep. Tony Jurgens (R-Cottage Grove), Rep. Patricia Mueller (R-Austin)