"Hair discrimination is racial discrimination."
Human Rights Commissioner Rebecca Lucero used those words while testifying in support of a bill that would specify that hair texture and hair styles "including but not limited to braids, locks, and twists" are included in the definition of race for purposes of prohibiting racial discrimination under the Minnesota Human Rights Act.
HF1315, sponsored by Rep. Esther Agbaje (DFL-Mpls), was approved 15-2 by the House Judiciary Finance and Civil Law Committee Thursday and sent to the House Floor. The companion SF1273, sponsored by Sen. Bobby Joe Champion (DFL-Mpls), awaits action by the Senate Civil Law and Data Practices Policy Committee.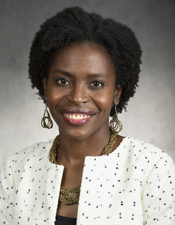 Rep. Esther Agbaje
People in this country and in this state have experienced discrimination at school, at jobs, and elsewhere based solely on the appearance of their naturally occurring hair, Agbaje said.
She said she is sponsoring the bill to ensure that "people have the freedom to show up as they are in school and at work and focus on the task at hand rather than worrying about whether their hair will cause a loss of an education, or earning an income."
"While Minnesota's human rights law protects against racial discrimination, the pernicious problem of hair discrimination and racial prejudice toward Black natural hair has historically gone unmarked in Minnesota and elsewhere," noted the Council for Minnesotans of African Heritage in a statement.
"Imposing Eurocentric standards of beauty and grooming as the sole criterion for civility, professionalism, and respectability puts Black Minnesotans through a racial ordeal that is physically and psychologically taxing and dehumanizing," the statement continued.
The language in the bill comes from the CROWN Act, which stands for "Creating a Respectful and Open World for Natural Hair," which has been adopted by more than a dozen states.
Rep. Matt Grossell (R-Clearbrook) asked whether current wording in the Minnesota Human Rights Act — which prohibits discrimination based on race in housing, education, employment, and other areas — wouldn't already cover this type of racial discrimination.
Because courts decide discrimination cases based on explicit wording in laws, Agbaje said it's important the language be incorporated into the act to eliminate any ambiguity and provide clear guidance to judges.