The public debate over how and how much to change the practice of policing in Minnesota began to heat up after the murder of George Floyd in 2020 and has intensified ever since — and especially the past couple of days — by other police-involved fatalities and alleged misconduct.
The scope of that debate is wide, and each of this week's three meetings of the House Public Safety and Criminal Justice Reform Finance and Policy Committee focused on different proposals designed to improve the profession of policing in the state.
At Friday's committee meeting, members discussed Article 3 of HF2724, sponsored by Rep. Cedrick Frazier (DFL-New Hope), which proposes to modify how police officers are hired, trained, supervised and disciplined, and would allow the creation of civilian oversight councils with expanded powers over law enforcement agencies.
The bill was laid over for further discussion. There is no Senate companion.
Frazier said the thrust of his bill is to promote the practice of community-based policing, which involves community crime-prevention organizations working beside and in concert with police officers to build up the level of trust between the two groups.
A trusted, community-based police force is much more effective at preventing crime in the first place and in solving the crimes that do take place, Frazier said.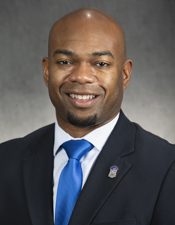 Rep. Cedrick Frazier
"We need to start treating community confidence as the law enforcement intelligence resource that it is," Frazier said.
To that end, the bill would authorize local units of government to establish civilian police oversight councils with new and expanded powers to make findings of fact and impose discipline on officers.
Currently, discipline at the local level is in the hands of police chiefs and their internal department policies and statewide by the Peace Officer Standards and Training Board.
HF2724 would also propose to expand the board's disciplinary powers by removing the restriction that it can only suspend or revoke a police officer's license if the officer's misconduct has resulted in a criminal conviction.
Law enforcement organizations had mixed reaction to the potential POST Board changes.
Brian Peters, executive director of the Minnesota Police and Peace Officers Association, said in a statement that his group has due process concerns; however, Interim Minneapolis Police Chief Amelia Huffman testified in favor of the expanded power.
"A strong POST Board with the power to review, suspend, or revoke a license supports the work being done by police chiefs to take clear action against misconduct, rebuild relationships, and support police-community partnerships," she said.
The bill would appropriate $450,000 in fiscal year 2023 to the POST Board to hire four investigators to perform compliance reviews and investigate alleged code of conduct violations by police officers.
Frazier said his bill also tries to address the difficulties law enforcement agencies are having maintaining a full force. The Minneapolis Police Department, for example, is short about 250 officers due to resignations and early retirements.
The bill would establish a POST Board task force to find ways to increase recruitment of new police officers, increase the diversity of the racial makeup and professional background of licensed police officers, promote education and training in community policing models, maintain the high standards of education and training required for licensure, and make policy and funding recommendations to the Legislature.
The task force would be funded through a $50,000 appropriation in fiscal year 2023 to the POST Board.