Prosecutors say convicting sex traffickers is difficult for several reasons, including the complexity of gathering sufficient evidence, finding victims, getting them to collaborate with police and, ultimately, testify.
Rep. Dave Pinto (DFL-St. Paul) is one of those prosecutors; he works in Ramsey County and his casework often involves combating sex trafficking.
Pinto sponsors HF2959, which would appropriate an additional $3.03 million in fiscal year 2023 to establish grants for state and local units of government to fight the sale of human beings for sex. Funds would support new or existing multijurisdictional entities to investigate sex trafficking crimes and to provide technical assistance for sex trafficking crimes, including case consultation, to law enforcement agencies statewide.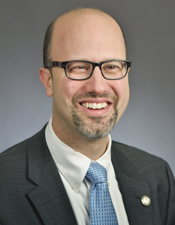 Rep. Dave Pinto
The House Public Safety and Criminal Justice Reform Finance and Policy Committee laid the bill over Tuesday for possible omnibus bill inclusion. There is no Senate companion.
Current funding to combat sex trafficking is about $1.25 million per year, and administered by the Office of Justice Programs in the Department of Public Safety.
[MORE: View grant recipients since 2016]
Stearns County Attorney Janelle Kendall serves on the Central Minnesota Human Trafficking Task Force, which she said has conducted more than 100 criminal investigations and charged more than 50 traffickers since first receiving funding in 2018.
That task force, one of many statewide, is an example of the kind of law enforcement cooperation needed to find, investigate, arrest, and prosecute sex traffickers, she said.
Such task forces greatly increase the ability of law enforcement to fight sex trafficking. Kendall said such cases are complex and require coordinated efforts to gather evidence such as hotel receipts, cell phone records, and surveillance recordings.