Some people want stripes in their lawn via different paths of cutting the grass. Others want the stripes of a bumblebee outside their window.
One is widely accepted, and Rep. Rick Hansen (DFL-South St. Paul) wants the other to be, too.
He sponsors HF2618 that would require cities to allow the maintenance and management of a natural landscape on private property, such as, according to the bill, "native or nonnative grasses, wildflowers, forbs, ferns, shrubs, or trees, including but not limited to rain gardens, meadow vegetation, and ornamental plants." It does not include noxious weeds nor traditional weeds or grasses that are simply overgrown.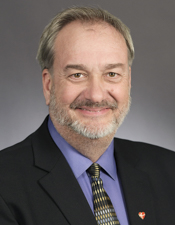 Rep. Rick Hansen
"You can't just let your lawn go," Hansen emphasized.
Approved Wednesday by the House Local Government Division via a 6-3 party-line vote, it was sent to the House State Government Finance and Elections Committee.
"Over the last several years business and homeowners and landowners and property owners have recognized that there is an opportunity for diversity and an opportunity to not only have a change from that traditional country manor lawn, but to have something that is resilient for the environment and enjoyable to the public," Hansen said.
Elaine Evans, extension professor and researcher at the University of Minnesota's Department of Entomology, said native plants are crucial habitat for diverse pollinators, such as the endangered rusty patch bumble bee.
"Having it be easier for people on private property, especially in cities, to be able to provide habitat for them is really crucial," she said. A potential added benefit, Evans added, could be goldfinches coming to eat the seeds produced.
A primary reason for opposition is the lack of community control.
"Several cities in the metropolitan area have ordinances that allow conversion of turf-grass lawn to native landscapes," Mike Lund, government relations specialist for Metro Cities, wrote in a letter. "… However, Metro Cities believes that these decisions are best made at the local level, and should not be imposed through state law that would impede local decision making in these areas."
Nothing would stop someone from going to their city council to ask for a change to a local ordinance, said Craig Johnson, intergovernmental relations representative for the League of Minnesota Cities.
"We have quite of precedent throughout state government of preempting certain activity," Hansen said.
Sen. D. Scott Dibble (DFL-Mpls) sponsors the companion, SF2514. It awaits action by the Senate Local Government Policy Committee.