Minnesota has a severe and persistent shortage of teachers of color and American Indian teachers, advocates say, and that is a major reason why the state continues to have the nation's worst education gap – the difference between academic success for white students versus students of color.
Seeking to change that, Rep. Hodan Hassan (DFL-Mpls) sponsors HF3079, to update the Increase Teachers of Color Act, which aims to attract, prepare, and retain more teachers of color and American Indian teachers.
"Representation matters," Hassan said, and having teachers of color to mentor students and be role models is crucial for students of color to succeed.
The act is a series of changes to Minnesota law proposed by the Coalition to Increase Teachers of Color and American Indian Teachers in Minnesota that were crafted with input from parents, students, educators, ethnic councils, and racial equity advocacy groups.
The House Education Policy Committee approved the bill 12-7 Wednesday and sent it to the House Education Finance Committee. There is no Senate companion.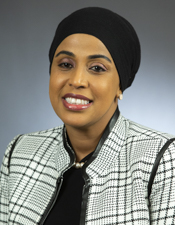 Rep. Hodan Hassan
Portions of the act, with $14.5 million in funding, were included in the 2021 E-12 education finance law. The total request for funding in fiscal year 2023 is $28 million.
Hassan said this year's effort includes a compilation of provisions from the proposed 2019, 2020, and 2021 Increase Teachers of Color acts that haven't made it into law.
"These policies promote the systemic change needed with increased investments … to move the needle and increase the percentage of teachers who reflect our increasingly diverse student population across the state," Hassan said.
The bill would set a goal that the percentage of teachers of color or American Indian should increase at least two percentage points per year to have a teaching workforce that more closely reflects the student population and ensure students have equitable access to effective and diverse teachers by 2040.
Other provisions in the bill would:
prohibit a school district from having American Indian mascots, team names, or nicknames;
set goals for schools to offer ethnic studies, anti-racist, and culturally sustaining courses; and
require a school district or charter school to allow an American Indian student to wear American Indian regalia, tribal regalia, or objects of cultural significance at a graduation ceremony.
Supporters note that Minnesota continues to have one of the whitest teacher workforces in the nation, with 96% of the state's teachers being white, a percentage that has barely changed in two decades despite the student population becoming increasingly diverse.
When students of color have teachers of color, they're more likely to be placed in gifted programs and succeed in general, said Ava Roots, a junior at Stillwater High School.
They also feel more cared for and interested in their homework and are ultimately more likely to graduate from high school, Roots said, noting Minnesota is 50th in the nation for racial disparities in education.
"Recruiting and supporting teachers of color is how we begin to close this gap," Roots said.
Much more needs to be done to strengthen programs and policies to attract, prepare and retain more teachers of color and American Indian teachers, said Regina Zapata, a Head Start teacher in Crookston.
Zapata, who is Hispanic, said she enjoys working in the schools, but also feels that her input on school issues and suggestions on classroom activities are routinely ignored by her white colleagues.
She knows the school experiences of her four daughters would be much better if they would have teachers they could relate to culturally and ethnically. Despite Crookston having a 24% Hispanic population, her daughters have never had a Hispanic teacher.
Rep. Sondra Erickson (R-Princeton) unsuccessfully offered a delete-all amendment that would have prohibited seniority-based layoffs, modified mentoring program requirements, and altered Tier 1 licensure requirements.
She said these changes would accomplish many of the same policy goals in the bill by removing barriers keeping teachers of color from being hired as teachers and by improving the retention of those who become teachers. The proposal failed 10-9.