When we see a police officer wearing an armored vest, we understand why. Policing is a dangerous profession, and body armor could stop a bullet and save a cop's life.
But other public safety professionals and first responders are also facing higher danger in their professions due to a significant increase in violent crime.
"Our world has changed significantly," said Brooklyn Park Fire Chief John Cunningham. "Today, we are responding to more and more calls that can and have turned violent."
Cunningham spoke in support of HF2867, which would authorize firefighters, EMTs, and paramedics to participate in the state's soft body armor reimbursement program. Currently, only police officers are eligible to apply for grants to help buy these vests.
The House Public Safety and Criminal Justice Reform Finance and Policy Committee laid over HF2867 Tuesday for possible inclusion in an omnibus bill. Sen. Andrew Lang (R-Olivia) sponsors the Senate companion, SF2851, which awaits action by the Senate Judiciary and Public Safety Finance and Policy Committee.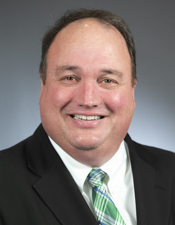 Rep. John Huot
Rep. John Huot (DFL-Rosemount), the bill sponsor and former emergency medical technician, said firefighters and other emergency first responders have needed this kind of protection for many years.
"Ten years ago when I was still on the rigs, guns were involved, people were very combative," he said.
With police agencies facing staff shortages and higher call volumes, Huot said it's rare that a police officer will accompany EMTs on a call. "This leaves them very vulnerable."
Cunningham noted that firefighters also face dangers other than what they traditionally expected while responding to calls.
Nowadays, when firefighters respond to active shooter situations, Cunningham said they are right behind the SWAT teams, rushing in to render first aid to any gunshot victims.
"You just never know when a situation is going to change," he said.
By law, the state will reimburse police officers up to one-half the price of a soft body armor vest, up to $838.58.
According to the Vest Reimbursement Program website, funds for this fiscal year have been depleted.
Money to pay for this possible expansion of the armored vest reimbursement program is a concern for several committee members, including the bill sponsor.
Huot said he has no accurate estimate of how many first responders might want to apply for these grants, but he will work toward finding that out and add a sufficient appropriation request.