— CORRECTION: The original story listed the bill as HF3275.
The Minnesota Council on Disability needs a boost in funding to ensure it has capacity to address the diverse and growing needs of the disability community, say advocates of HF3392.
Sponsored by Rep. Kelly Moller (DFL-Shoreview), it would increase council funding by $1.2 million this year and set its funding at $2.98 million for the next two fiscal years. It was laid over Thursday by the House Human Services Finance and Policy Committee for possible omnibus bill inclusion.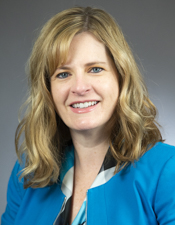 Rep. Kelly Moller
The current level of funding and staffing means the council must choose between advising state agencies and advocating for Minnesotans with disabilities, though both are required by statute, said Moller.
Established in 1973, the Minnesota Council on Disability's mission is to "serve people with disabilities in Minnesota through development of effective policy, training, technical resources and collaborations with public and private stakeholders."
The council has had as many as 16 people on its staff, but now has approximately eight full-time equivalents, said Executive Director David Dively.
Each staff member wears multiple hats, Dively said, with one person responsible for all interagency government relations plus public policy work; one for all technical assistance on accessibility; and one for IT, facilities, policy, HR, finance, reporting, communications, grants and more.
Chair Nikki Villavicencio said work the council has done during the COVID pandemic is among the most important in its history. Those efforts helped people with disabilities access health care, including being a priority group for vaccines, and helped ensure their needs were included in any emergency orders. 
This is a transformational time in the state and economy, Villavicencio said.
"From workplace environments and accommodations, to public health data collection, to ensuring people with disabilities are protected through civil rights — this is a changing point," she said.
The companion, SF3275, is sponsored by Sen. John Hoffman (DFL-Champlin) and awaits action by the Senate Human Services Reform Finance and Policy Committee.